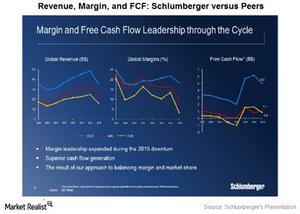 Behind the Scenes with Schlumberger's Business Model
By Alex Chamberlin

Mar. 9 2016, Published 2:15 p.m. ET
Schlumberger's business model
Despite the current weakness in the energy sector, Schlumberger (SLB) remains a strong OFS (oilfield equipment and services) company. Its business model is diversified and not overly dependent on any particular line of business while catering to upstream companies' needs. Its operations are geographically spread to over 85 countries and are, therefore, relatively insulated from energy business cycle downturns in any particular geographic location. Also, SLB's merger with Cameron International (CAM) will likely add to its product and service portfolio—if the transaction goes through.
Article continues below advertisement
Energy sector weakness is hurting everyone
The slowdown in E&P (exploration and production) activity has spread across the globe, scathing even the strongest, including Schlumberger. Lower E&P activity affects OFS companies' revenues and profitability negatively. SLB's management expects the current energy price weakness to continue in 2016, and in effect, upstream companies' budgets to stay under pressure. SLB estimates that 60 new oil projects have been deferred or cancelled since 2015. It estimates that this will slash more than three million barrels per day of production growth by 2020, which would have come online otherwise.
Schlumberger's 2015 revenues and free cash flow were higher than those of its closest OFS industry peers like Halliburton (HAL) and Baker Hughes (BHI). SLB's operating margin was also higher than HAL's and BHI's in 2015. Schlumberger makes 0.53% of the SPDR S&P 500 ETF (SPY).
Why Schlumberger remains such a strong player
In order to cut down on production costs, upstream companies look to use innovative technological solutions across their entire exploration and production processes. New technology sales made up 24% of SLB's total sales and remained unchanged from the previous year, and better technologies help improve upstream companies' reservoir performance. Although limited multi-client seismic license sales in North America, reduced exploration, and lower deepwater activity are still major concerns for SLB, infrastructure development and technology integration should help the company through this rough period.