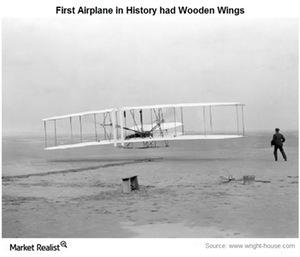 What the Aerospace Industry Needs from Specialty Chemicals and Materials
By Shannon Black

Mar. 2 2016, Updated 4:10 p.m. ET
Introducing composites
The adoption of specialty materials in the aerospace industry (PPA) is being driven by the rising currency of lightweight alternatives over that of traditional equipment. Since the aerospace industry (ITA) is the fastest growing end-market for composite materials, we'll go deeper into the appeal of composite materials in this part, bearing in mind that Hexcel Corporation (HXL) and Cytec Industries (CYT) are big players in the carbon fiber supply market.
Article continues below advertisement
A brief history of composite materials in airliners
While unfathomable now, the first aircraft in history to fly had wings made of wood. The arguments that were made back then in favor of using wood are still valid today. However, thanks to the prodigious progress made over the years, humanity is now much more acquainted with much more sophisticated materials. Composite materials are lightweight and have high strength-to-weight ratios. They are also a designer's delight, since they can be molded into complicated shapes that are difficult to achieve with traditional metals such as aluminum.
In the 1950s, only 2% of the Boeing 707 was made of composites. This is a far cry from the Boeing 787 Dreamliner, which flew for the first time in 2009 and had about 50% of its structure made of composites. In 2014, Japan's Toray Industries signed an $8.6 billion deal with Boeing to become the sole carbon fiber supplier to its 777X passenger jet and its 787 Dreamliner. Both Airbus (EADSY) and Boeing (BA) now claim 20% reductions in the weights of their aircrafts, as well as a 20%–25% improvement in fuel efficiency.
The benefits of composites in aerospace
The use of composites has also reduced service intervals for airplanes by reducing fatigue- and corrosion-related checks. This has created valuable savings in maintenance costs for airliners, who often reel from high operating expenses. Corrosion resistance properties, notably, result in higher humidity levels in the cabin, producing fewer instances of headaches and dry mouths and allowing long flights to be more comfortable.
In the next part, we'll explore adhesives, sealants, and the drivers of specialty chemicals in the aerospace industry.