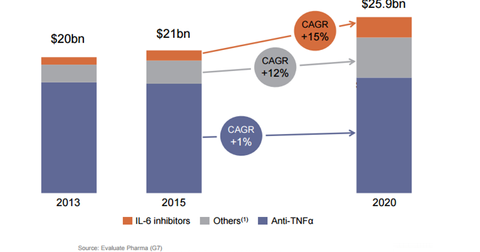 2016's Estimated Product Launches: LixiLan, Sarilumab, Lixisenatide
By Jillian Dabney

Updated
LixiLan
During 2015, Sanofi (SNY) launched Toujeo, Praluent, and Dengvaxia. Similarly, in 2016, it is expecting a regulatory decision on three other drugs: LixiLan, sarilumab, and lixisenatide.
LixiLan indicated for type 2 diabetes is a combination of Lantus and lixisenatide. Lantus is Sanofi's most frequently prescribed diabetes drug. For further information on Lantus, please refer to How Can Sanofi Maintain Its Leadership in the Diabetes Field?
Article continues below advertisement
LixiLan is currently in Phase 3 of development. On February 22, 2016, the FDA accepted the New Drug Application for the drug. The FDA's decision on the drug is expected by August 2016. The drug's submission to the European Union is expected to occur in March 2016. If approved, LixiLan would face competition from Novo Nordisk's (NVO) Tresiba and Xultophy.
Sarilumab
Sarilumab is being developed in association with Regeneron (REGN) for the treatment of rheumatoid arthritis. The drug is a monoclonal antibody against the Interleukin-6 (or IL-6) Receptor. The company submitted the Biologics License Application (or BLA) in October 2015 that was accepted for review in January 2016. The Prescription Drug User Fee Act (or PDUFA) date for the drug is set for October 30, 2016.
The rheumatoid arthritis market is valued at 18 billion euros, and ~70 million people around the world have the disease. The IL-6 class is growing by more than 20% and in terms of sales, it is worth more than 1 billion euros. If approved, the drug would compete with Roche's (RHHBY) Actemra.
Lixisenatide
Lixisenatide is a glucagon-like peptide-1 (or GLP-1) agonist indicated for type 2 diabetes. The US regulatory body decision on the drug is expected by 3Q16.
To get diversified exposure to Sanofi and to reduce company-specific risks, investors can choose to invest in the VanEck Vectors Pharmaceutical ETF (PPH). Sanofi accounts for 5.13% of PPH's total holdings.