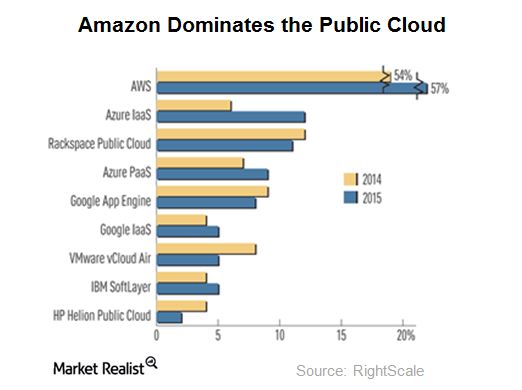 Will Microsoft's Azure Overtake Amazon's AWS in the Cloud Space?
Microsoft Azure's 140% growth outpaced Amazon AWS's 71% growth
So far in the series, we've analyzed Microsoft's (MSFT) fiscal 2Q16 performance. Its 2Q16 results show that Microsoft is not leaving any stone unturned when it comes to strengthening its place in the cloud computing space to generate revenues, enhance margins, and reduce its dependency in the PC space.
Microsoft's Intelligent Cloud segment's performance in fiscal 2Q16 offset the decline in the company's MPC (More Personal Computing) segment to an extent. MS Azure, which is an integral part of Intelligent Cloud, grew 140% in 2Q16.

Article continues below advertisement
Amazon released its fiscal 4Q15 earnings on January 28, 2016. Its AWS (Amazon Web Services) revenues grew 71% to $2.4 billion and contributed $687 million towards operating income, an increase of 186% on a YoY basis. The triple-digit growth of MS Azure is threatening Amazon's (AMZN) AWS (Amazon Web Services) leadership in the cloud space.
Amazon's price cuts forced Microsoft to slash Azure prices in January 2016
Amazon started 2016 with its decade-old price cut strategy. It announced price cuts to its Elastic Compute Cloud (or EC2) and the opening of a new cloud region in South Korea (EWY) in 2016. Following Amazon's lead, Microsoft has announced price cuts for its Azure platform.
To find out more about the growing rivalry between MS Azure and Amazon's AWS, please read Will Amazon Web Services Lose Its Position to Microsoft in 2016? IBM's (IBM) Bluemix and Google's (GOOG) Cloud Platform are other offerings in this space.
IT spending on Cloud is expected to rise
According to Synergy Research Group estimates, total IT (information technology) spending towards building, developing, and using cloud services is growing at a rate of 28% annually, and this is likely to continue in the future. The report also stated that ~$110 billion was spent on the cloud in 2015. In the words of Synergy Research chief analyst Jeremy Duke, "In many ways 2015 was the year when cloud became mainstream." IDC Research has a similar prediction in this regard, stating that IT spending on cloud services is growing by 24.1% annually.
Regardless of varied estimates, it can be safely deduced that cloud revenues are well on their way to becoming the chief focus of IT spending. Therefore, Amazon and Microsoft are trying to outdo each other in the cloud space.