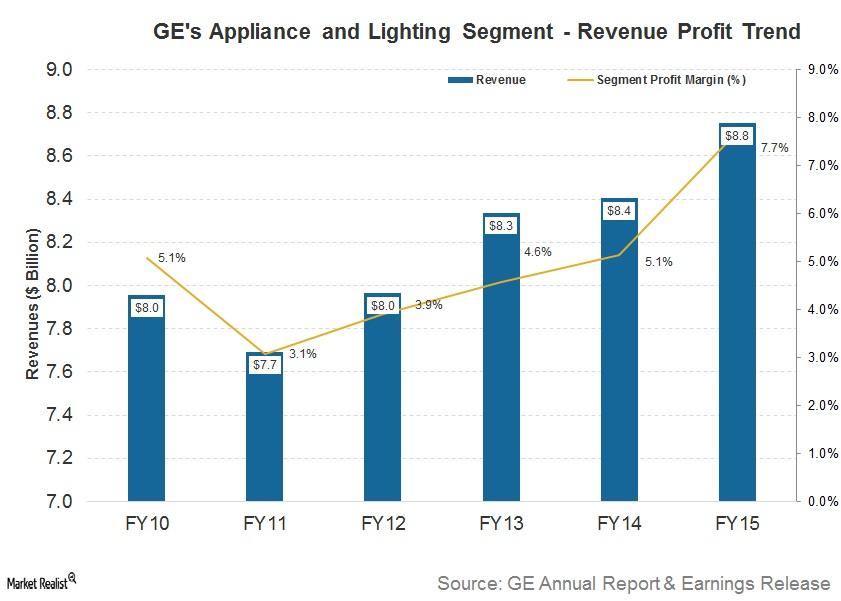 Gauging General Electric's Appliance Segment
About GE's Appliance and Lighting segment
General Electric Company (GE) recently announced that its appliance and lighting division would be sold to Haier (in a deal that is still subject to regulatory approvals). The Appliance and Lighting segment aims to lead a global lighting revolution and to deliver innovative solutions that will "change the way people light and think about their world." In fiscal 2015, appliances contributed ~8% to GE's total industrial revenues and ~3.8% to its consolidated operating profits, with an operating margin of 7.7%.
Article continues below advertisement
This segment's major products include lighting products and services (such as industrial-scale lighting solutions and major home appliances), refrigerators, cooktops, dishwashers, and hybrid water heaters. According to its fiscal 4Q15 earnings release, revenue from servicing came in at ~5% while revenue from equipment sales represented ~95%.
Why did GE Appliances-Electrolux deal fail?
During the third quarter of 2014, GE signed an agreement to sell its Appliances business to Electrolux for $3.3 billion. The transaction was approved by the boards of directors of GE and Electrolux (ELUXY) but was subject to customary closing conditions and regulatory approvals.
Electrolux's intention to acquire GE appliances was aimed at competing with Whirlpool (WHR), the US appliance market leader, but an objection was raised by the US Department of Justice, which argued that the deal should be blocked because a larger Electrolux would dominate the US cooking appliance business. After a month of trial with both entities, GE backed out of the deal.
Why General Electric sold GE Appliances to Haier
GE's appliance business has been sold to Haier (subject to regulatory approvals), as that business was not GE's core strength, nor was its competitive position favorable. (We'll look at this deal in detail in Part 14 of this series.)
GE is part of the Industrial Select Sector SPDR ETF (XLI) and accounts for 11.78% of XLI's total holdings. GE is also one of the top ten holdings of the Vanguard High Dividend Yield ETF (VYM), accounting for 3.6% of VYM's total holdings. Microsoft (MSFT) and Exxon Mobil (XOM) are among the top holdings in the fund.