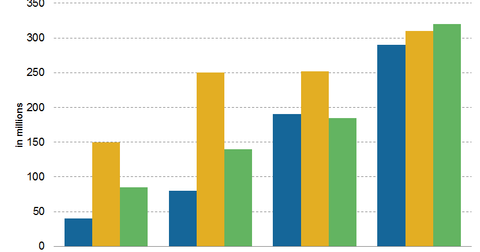 What Do TripAdvisor's Key Metric Trends Suggest?
By Ally Schmidt

Updated
Unique visitor's growth flat
In 4Q15, TripAdvisor's (TRIP) average monthly unique visitors remained flat at 350 million compared to 3Q15. Unique monthly visitors grew by 40% YoY (year-over-year). Keep in mind that from the previous quarter, the company started using its own log files to calculate unique visitors while they had been using Google Analytics previously.
Article continues below advertisement
Hotel shoppers grow
TRIP's average monthly hotel shoppers grew by 10% YoY to 113 million in 4Q15. This strong growth comes as a result of the huge content and information maintained by the company and its unmatched reviews, tips, photos, and guides that can be accessed through its mobile app. It's important to look at the growth of unique visitors in an online business, as higher the growth in visitors, the greater the potential for future sales and increased word-of-mouth publicity.
Mobile growth and revenue per shopper
Mobile users make up more than half of the company's traffic, and during 4Q15, the company reached more than 290 million app downloads. Phone hotel shoppers grew by 36% and accounted for 30% of total shoppers. Conversion rates have also improved to 30%, compared to 19% the year before.
However, revenue per shopper continued to decline. In 4Q15, TRIP's revenue per shopper declined by 12% due to currency headwinds, lower conversion from mobile, and instant book rollout. However, both mobile revenue per shopper and desktop revenue per shopper increased YoY.
Article continues below advertisement
Growing content
TripAdvisor boasts of having the largest user community in travel, with about 320 million opinions and reviews covering 6.2 million places to stay, places to eat, and things to do. The website now features about 995,000 hotels and accommodations, 740,000 vacation rentals, 3 million restaurants, and 590,000 attractions around the globe. The company's reach and popularity can also be judged from the fact that the website gets user-added content at more than 190 contributions per minute.
Outlook for 2016
TripAdvisor's unique visitors are expected to continue to grow as more and more users shift to booking travel online and through mobiles. For 2016, the management will focus on growing revenue per hotel shopper. Revenue per hotel shopper is also expected to increase due to the Instant Booking rollout in 2016. However, it's important to note that TripAdvisor is also able to translate these improving metrics to revenue growth. (More on this the next part of this series.)
TRIP makes up 1.27% of the NASDAQ-100 Ex-Technology Sector Index (QQXT), while Priceline (PCLN) forms 1.46%, Expedia (EXPE) forms 1.45%, and Ctrip.com International (CTRP) forms 1.37%.
Continue to the next part for a closer look at TripAdvisor's revenues in 4Q15, in 2015, and going forward.