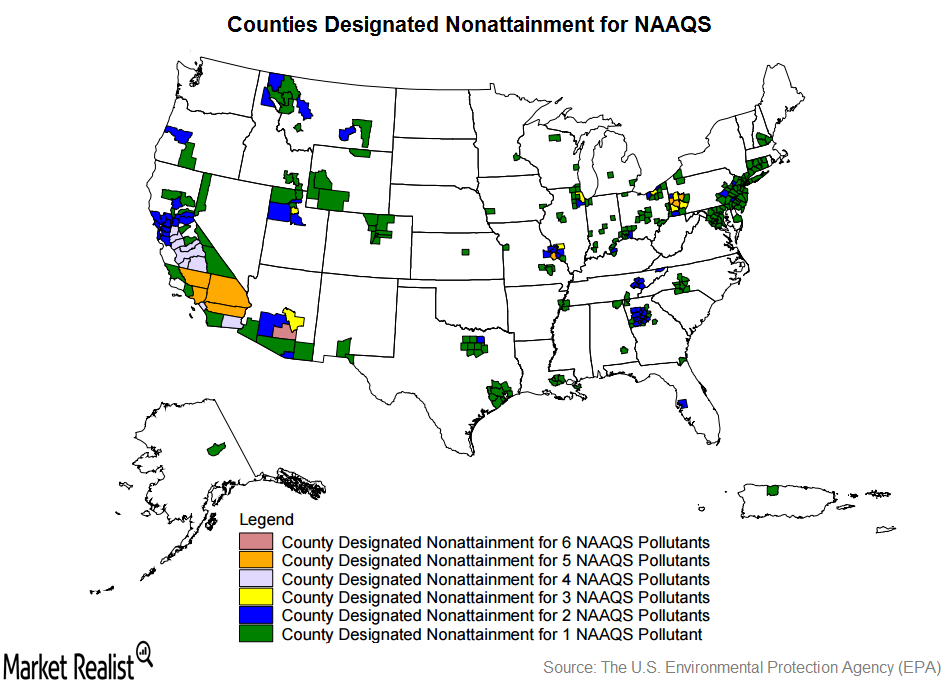 How Developments in the Clean Air Act Will Impact Coal Mining
By Sheldon Krieger

Feb. 9 2016, Updated 3:15 p.m. ET
Clean Air Act
The Clean Air Act is a national air pollution control policy that regulates the emission of hazardous pollutants from stationary and mobile sources in the United States.
The U.S. Environmental Protection Agency (or EPA) administers the implementation of the CAA through the National Ambient Air Quality Standards (or NAAQS). It has set NAAQ standards for six principal pollutants: carbon monoxide, lead, nitrogen dioxide, ozone, sulphur dioxide, and particle pollution called "criteria pollutants." The EPA regularly reviews and revises these standards.
The Clean Air Act indirectly affects coal mining operations by extensively regulating the emissions of fine particulate matter, sulphur dioxide, nitrogen oxides, mercury, and other compounds emitted by coal-fueled power plants and industrial boilers, which are the largest end-users of coal.
Article continues below advertisement
Recent developments
The EPA's Clean Power Plan (or CPP) came into effect on December 22, 2015. CPP aims to reduce carbon pollution from power plants.
The EPA determined the best system of emission reductions (or BSER) by examining technologies and measures already in use. BSER consists of three building blocks that aim to reduce carbon dioxide emission in the following ways:
improving the heat rate of existing power plants
substituting increased electricity generation from lower-emitting existing natural gas plants for reduced generation from higher-emitting coal-fired power plants
substituting increased electricity generation from new zero-emitting renewable energy sources like wind and solar for reduced generation from existing coal-fired power plants
Also, the EPA proposed a Clean Energy Incentive Program (or CEIP) to encourage early investments in renewable energy.
Impact on coal mining
The proposed plan seeks to slowly move electricity generation away from burning fossil fuels. Decreased dependence on coal in power generation could reduce domestic demand for coal.
Coal (KOL) mining companies like Arch Coal (ACIIQ), Peabody Energy (BTU), Alpha Natural Resources (ANRZQ), and Cloud Peak Energy (CLD) are already facing the heat of low natural gas prices. Stringent implementation of CPP could further add to their woes.