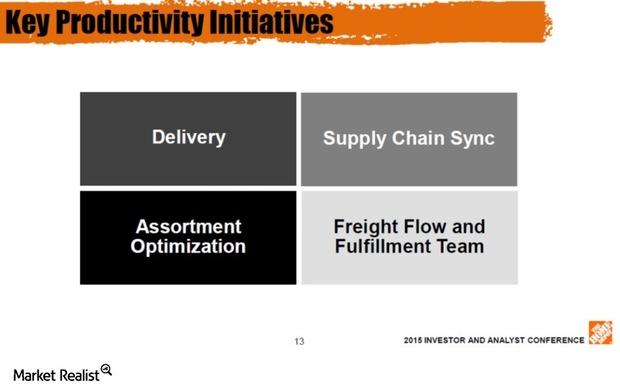 Productivity Enhancements: How Home Depot Is Trimming the Fat
Sales forecasting
The Home Depot (HD) has been in the process of enhancing productivity via processes including vendor collaborations, channel, labor, and marketing optimization, and supply chain management, among others. The company is using an improved sales (IYK) forecasting tool at stores, ensuring the optimal number of associates are on hand to help customers. Sales forecast variance at individual stores was brought down to less than 2% in 2015, from 5% in 2010.
Article continues below advertisement
Article continues below advertisement
Productivity enhancements resulted in improved profitability margins for the world's number one retailer. HD's EBITDA (earnings before interest, tax, depreciation, and amortization) margin rose from ~10% in fiscal 2010 to ~14.3% in fiscal 2015. Profitability margins are also expected to rise in fiscal 2016 and beyond, as you'll read in the next article.
Marketing channel optimization
Raising the effectiveness of its marketing (XLY) (XRT) efforts is paramount to ensure both higher sales and customer satisfaction. HD's marketing productivity has been enhanced by leveraging customer data to better target marketing messages to customers. The marketing effort has also been optimized by collaboration with vendors to determine the marketing slant. HD is also shifting its mix more towards digital marketing, with less emphasis on print and mass marketing efforts. As a result, the return on marketing dollars spent by HD has doubled since 2010.[1. Based on comments by Ted Decker, Home Depot's executive vice president for Merchandising]
Optimal merchandise and channel mix
Optimizing product and channel mix is an important consideration, given HD's interconnected retail strategy. HD has also looked at the best ways to optimize space at its stores in terms of product display, and whether products should be made available at brick-and-mortar stores or online or both[2. Based on comments by Ted Decker, HD's executive vice president of Merchandising].
Optimizing merchandising and spatial decisions are essential to maximizing sales. Home goods and furnishing retailers Restoration Hardware (RH) and Williams-Sonoma (WSM) derive ~50% of their sales through online channels, compared with about 5% for The Home Depot. HD is undoubtedly far larger and more established, with its total sales coming in at ~18x those of WSM, and ~45x those of RH in the last fiscal year. HD's market leadership, store footprint, and omni-channel potential gives it an edge in growing (IVW) future omni-channel sales. HD makes up 0.53% of the portfolio holdings in the PowerShares DWA Momentum ETF (PDP).