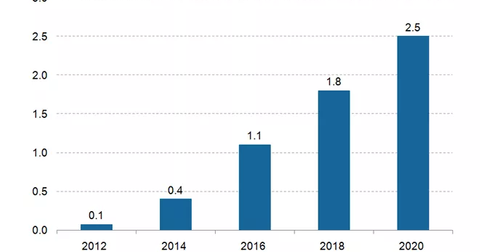 Nokia Completing Alcatel-Lucent Acquisition: What to Expect
By Adam Rogers

Updated
Operating costs expected to fall $1.1 billion annually by 2019
In April 2015, Nokia (NOK) agreed to acquire Alcatel-Lucent (ALU) in an all-share transaction that values the deal at $16.6 billion. The companies state that the merger will help them cut 900 million euros of operating expenses on an annual basis by 2019. Nokia tried to justify the 28% premium that it paid on Alcatel-Lucent's average stock price over the last three months to acquire the company.
The deal will make Nokia an even bigger European (EFA) wireless equipment player. Nokia has been lagging behind Ericsson (ERIC) and Huawei in this market. However, the merger should make Nokia the second-largest player.
The acquisition is expected to finish in the first half of 2016.
Article continues below advertisement
Alcatel has a strong foothold in China
Alcatel-Lucent managed to gain a contract with China's major telecom providers—China Mobile, China Telecom, and China Unicom—to provide its 7950 XRS core router. Alcatel-Lucent took advantage of Cisco's (CSCO) relatively weak position in China. China is a good opportunity for networking players because it just rolled out its LTE/4G network. According to a report from GSMA Intelligence, and as the above chart shows, the total number of LTE/4G connections around the world should increase from 0.4 billion in 2014 to 2.5 billion in 2020.
Alcatel: A major player in the routing space
The core router segment was historically controlled by Cisco Systems and Juniper Networks (JNPR). The companies had a combined market share above 80%. The scenario changed with the 2012 re-entry of Alcatel-Lucent (ALU) in this space.
Alcatel-Lucent's market share in edge routing has grown to 24%. The company edged out Juniper Networks to become the number-two vendor in this segment in 2010 despite entering the market in 2003. Alcatel-Lucent can now use this platform as leverage to increase market share in the core router space as well.