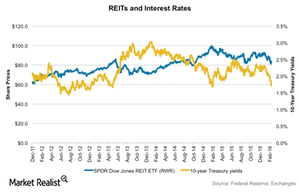 How Would Negative Interest Rates Impact REITs?
Impact of negative interest rates on REITs
In the previous parts of this series, we saw how negative rates would affect the earnings of insurance companies and banks. For REITs, however, the story is different. In this part, we'll analyze how REITs would be affected in case of a negative interest rate policy (or NIRP).
Interest rates are inversely related to the REIT sector. A cut in interest rates has a twofold impact on REITs.
It leads to a decline in borrowing costs, which enhances REITs' profitability and ability to make acquisitions. REITs raise cash through bond issues and loans to invest in properties. So lower interest rates benefit their earnings. However, on the flip side, in case interest rates turn negative, real estate prices increase. Rising real estate prices could make new acquisitions and developments difficult for REITs.
A fall in interest rates makes REITs more attractive dividend-yielding investments compared to bonds. This is because REITs have been traditionally viewed as dividend-yielding investments. So when bond yields decline, investors are better off investing in REITs. When the yield curve flattens, spreads between Treasury yields and dividend yields widen, thereby making REITs more attractive.
REITs within the Financial Select Sector SPDR ETF (XLF) have a trailing 12-month dividend yield of 4.4%.
Article continues below advertisement
Article continues below advertisement
Impact on REITs
NIRP is beneficial for REITs. For example, after the implementation of NIRP in Japan, the Tokyo Stock Exchange REIT Index surged 6% intraday. In the United States, negative interest rates would lead to a rally in ETFs such as the SPDR Dow Jones REIT ETF (RWR) and the iShares Mortgage Real Estate Capped ETF (REM) investing in this sector. It would also benefit earnings of REITs such as Equity Residential (EQR), Public Storage (PSA), and Ventas (VTR).