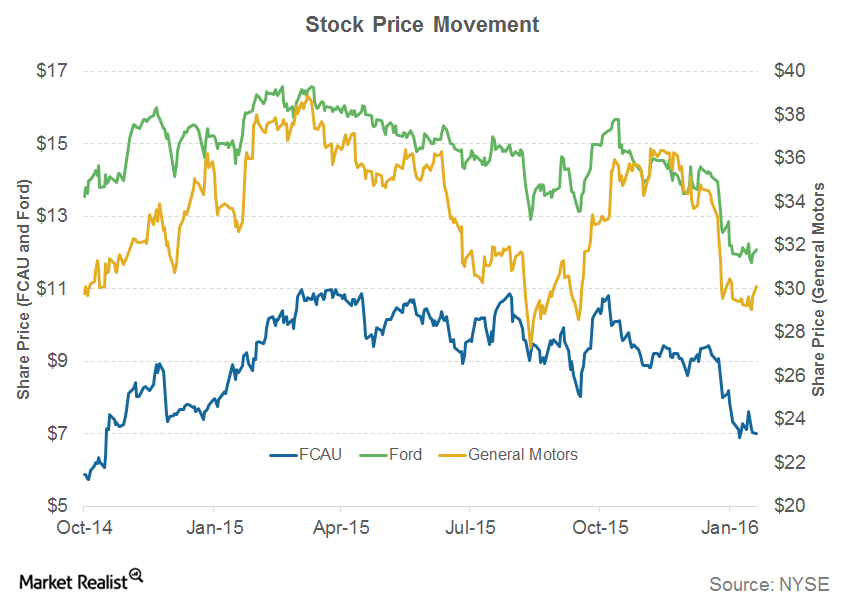 Must-Read Guide on Fiat Chrysler's 4Q15 Earnings and Conference
<p>Fiat Chrysler Automobiles (FCAU) released its 4Q15 earnings on January 27, 2016.</p>
4Q15 earnings
Fiat Chrysler Automobiles (FCAU) released its 4Q15 earnings on January 27, 2016. The company reported adjusted EPS (earnings per share) of 0.74 euros (~$0.81) in 4Q15. Its EPS in the corresponding quarter of last year stood at 0.35 euros (~$0.44).
The performance of FCAU's Jeep and Ram utility vehicle brands globally had a positive impact on the company's 4Q15 earnings. This, along with some other details, is what we'll be discussing in this series.
Article continues below advertisement
Article continues below advertisement
Market reaction
On the day of the earnings release, the company's stock plunged by ~5% in the pre-market hours. However, after the earnings release, a minor recovery was seen in the stock price as FCAU revised its financial targets upwards for its 2018 business plan. The stock price ended the day at $7.45, down by 2.1% from the previous day's close. In the graph above, you can see the recent movement in the company's share prices against those of its peers General Motors (GM) and Ford Motor Company (F).
The adjusted EPS for the year 2015 were 1.31 Euro (~$1.46). In terms of earnings, 4Q15 was the best quarter reported by the company in 2015. Note that the company's 2015 earnings were hurt by the money spent by the company on safety recalls in North America and on vehicles destroyed in an explosion at a Chinese port during the previous quarter.
Fiat Chrysler's earnings were released before those of any other major automakers. Tesla Motors (TSLA) is expected to release its 4Q15 earnings on February 10, 2016. Currently, FCAU forms 1.3% of the First Trust US IPO ETF (FPX).
Series overview
In this series, we'll explore Fiat Chrysler Automobiles' 4Q15 earnings report in detail. We'll discuss what factors could drive its earnings in the coming quarters. We'll also cover key points from the company's 2018 business plan.