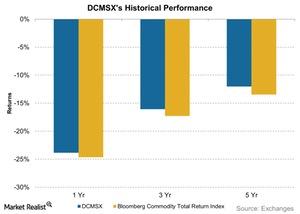 All You Should Know about the Alternative Mutual Fund DCMSX
By Ivan Kading

Nov. 20 2020, Updated 1:27 p.m. ET
Commodity strategy fund
The commodity return strategy is one of the most frequently used hedge fund strategies as it gives investors access to the commodity markets, which in turn increases the scope for portfolio diversification. The DFA Commodity Strategy Portfolio – Institutional Class (DCMSX) is an alternative mutual fund that gives retail investors access to the commodity return strategy.
Article continues below advertisement
Falling commodity markets
The above graph presents the historical performance comparison of DCMSX with its benchmark Bloomberg Commodity Index Total Return.The commodities markets are overly dependent on the performance of the Asian markets as they tend to be commodities' largest consumer. Due to the slowing GDP (gross domestic product) growth of China and the continuous fall in crude oil prices, the performance of the commodity markets is dropping in the S&P 500 (VFINX). Also, the strengthening of the dollar has only made the matter worse. Both the DFA Commodity Strategy Portfolio – Institutional Class (DCMSX) and Bloomberg Commodity Index Total Return, along with various commodity and commodity-related investment products, have fallen considerably over the years. As shown in the above graph, DCMSX was better able to protect the downside compared to its benchmark. In the one-year period ended January 21, 2016, the total return of DCMSX was -25.6%, whereas the Bloomberg Commodity Index returned -26.18%.
DCMSX: A Brief
DCMSX is managed by David A. Plecha, Joseph F. Kolerich, and Alan Hutchison from Dimensional Fund Advisors. The top fund holdings as of the end of December were fixed income bonds of companies such as ExxonMobil (XOM), JPMorgan Chase (JPM), Qualcomm (QCOM), and Gilead Sciences (GILD). More than 20% of the fund's assets are allocated to the Dimensional Cayman Commodity Fund I Ltd. In the next part of this series, we'll go over the portfolio holdings of DCMSX.