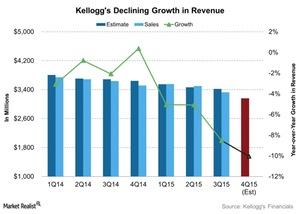 Kellogg Is Expected to Report a 10% Revenue Drop for Fiscal 4Q15
Revenue estimates for fiscal 4Q15
Kellogg (K) reported sales slightly ahead of estimates for the first two quarters of fiscal 2015. However, it missed the fiscal 3Q15 estimates by 2.6%. On February 11, we'll see if Kellogg beat estimates for fiscal 4Q15. Kellogg's revenue has been falling in the last few quarters. The company is expected to report sales of $3,160 million, a fall of 10% YoY (year-over-year). For the full year, analysts expect revenue of $13.5 billion, a decline of ~7% YoY.
Article continues below advertisement
Recap of fiscal 3Q15 performance
Kellogg's net sales for fiscal 3Q15 fell 8.5% YoY to $3.3 billion as a result of currency translation. Currency-neutral comparable net sales rose 1% YoY in 3Q15. Kellogg reported an operating profit of $334 million, a decrease of 8.7% when compared to 3Q14. Currency-neutral comparable operating profit also declined by 2.3%.
Factors that impacted fiscal 3Q15 performance
Despite good revenue growth in all of Kellogg's segments, its fiscal 3Q15 profit and revenue fell mainly because of a shift in consumer tastes and a stronger dollar. The company demonstrated strong growth in many of the emerging and developing markets in Asia Pacific, Latin America, and Europe, as well as in its U.S. Cereal business.
Headwinds from the resetting of incentive compensation closer to target levels contributed to the decline in operating income. Excluding this impact, Kellogg's operating profit may have risen ~6%, or 8 points.
Article continues below advertisement
The U.S. Snacks segment developed sequentially, and Kellogg experienced growth in its U.S. Specialty Channels and Canadian businesses. Pringles saw improved sales growth in each of its regions and added to the rise in total net sales. Up-front costs related to Project K and currency translation had an impact on the reported operating profit.
Management's view of fiscal 3Q15 performance
In the fiscal 3Q15 earnings call, John Bryant, Kellogg Company's chairman of the board and chief executive officer, commented, "The Company's results for the third quarter continued the momentum that we saw earlier in the year. Our developing and emerging-market businesses performed well, and the trends in our developed businesses continued to show improvement over last year. Our major productivity programs continue to progress well, and we remain on-track to meet our objectives for 2015 and 2016."
Peers' revenues
Kellogg's competitors in the industry include ConAgra Foods (CAG), Cal-Maine Foods (CALM), and General Mills (GIS). Below are sales estimates for these competitors:
CAG is expected to report net sales of $2,857 million for fiscal 3Q16.
CALM is expected to report net sales of $494 million for fiscal 3Q16.
GIS is expected to report net sales of $4,088 million for fiscal 3Q16
To gain exposure to CAG, K, and GIS, you can invest in the Guggenheim S&P 500 Equal Weight Consumer Staples ETF (RHS). It invests 2.6% of its holdings in Kellogg, 2.5% of its holdings in GIS, and 2.7% of its holdings in CAG.