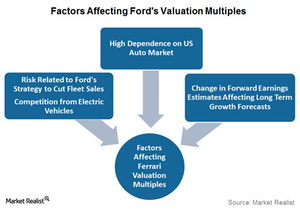 What Factors Could Affect Ford's Valuation Multiples?
Factors affecting Ford's valuation multiples
Previously in this series, we looked at valuation methods for Ford Motor Company (F). In this final article of the series, we'll talk about some key factors that may affect Ford's valuation multiples going forward.
Article continues below advertisement
Article continues below advertisement
Risk factors
As noted earlier in this series, Ford is a mature company, so it's important for investors to pay attention to factors that may increase the company's risk profile significantly. This is unlike fairly new businesses such as Tesla (TSLA), where future earnings estimates are primarily driven by future growth prospects rather than risk profiles.
In Ford's case, a number of risk factors may affect its future earnings estimates and could negatively affect its valuation multiples going forward.
Is cutting fleet sales good?
Currently, Ford is trying to minimize its fleet sales. This should help the company to boost its profit margins by utilizing its plant capacity to produce retail customer–oriented vehicles that are more profitable. This move seems fair at a time when US automakers are running their plants at full capacity. However, cutting down fleet sales may pose a challenge for the company upon any change in future auto demand.
High dependence on US auto demand
In the last couple of months, concerns about US auto demand (XLY) being at its peak have negatively affected automakers' future earnings estimates. Note that Fiat Chrysler Automobiles (FCAU) recently mentioned in its 4Q15 earnings report that it considers 2015–2016 to be the peak year for US auto demand. This has further boosted debate about whether US auto demand is at its peak.
Any signs of weakening auto demand from the United States in the near term may greatly affect US automakers' future earnings estimates. This may lead to lower valuation multiples.
General Motors (GM) denied the possibility of US auto sales being at their peak in its latest earnings report, citing strong fundamental data tracked by the company.