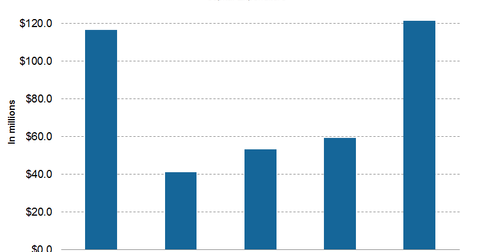 Emergency Visit or Expansion: What Should Investors Look For?
By Jillian Dabney

Updated
Emergency room visits
Emergency visits are an important factor for hospitals, as greater numbers of patients who seek such treatments are uninsured ones. These patients fall into the self-pay revenue source category.
Emergency visits are hospital-based emergency room visits. During 4Q15, these visits fell by 1.9% to 372,000. On a yearly basis, these visits rose to 1.5 million, up 8.3%.
On a same-facility basis, emergency visits at LifePoint Health (LPNT) fell by 1.8% YoY (year-over-year), leading to a fall in same-hospital equivalent admissions during 4Q15. Flu-related emergency visits fell by 7.6%.
Article continues below advertisement
Bad debt expense
LifePoint Health makes provisions for accounts receivable, which can become uncollectible in the future. Self-pay accounts form the largest component of provisions for doubtful accounts. These provisions also include deductibles and co-payments from other payer categories such as Medicare and Medicaid.
During 4Q15, the provision for doubtful accounts amounted to $200 million, ~14.6% of revenues on a consolidated basis, which reflected a fall of 9.4% when compared with the same quarter of the previous year. The fall in doubtful account provisions is indicative of an improved cash collection process.
Capital expenditure
In the hospital industry, companies must continuously upgrade technology and expand capacity. The capital expenditure for LifePoint Health during 4Q15 stood at $121.3 million. The company expects further capital expenditure in 2016.
During 3Q15, Universal Health Services (UHS) and Community Health Systems (CYH) incurred capital expenditures amounting to $99 million and $222 million, respectively. The capital expenditure for HCA Holdings (HCA) for 4Q15 stood at $804 billion.
It's often risky to directly invest in a pharmaceutical or biotechnology company, as any news release regarding the success or failure of a drug can result in volatility in a stock's price.
To remain relatively safe, investors can choose to invest in ETFs such as the SPDR S&P MIDCAP 400 ETF (MDY). MDY has 0.20% of its total holdings in LifePoint.