Why EA's Trading below Moving Averages after Q3 Earnings
Electronic Arts (EA) generated investor returns of 17.8% in the trailing 12 months and -6.6% in the trailing one month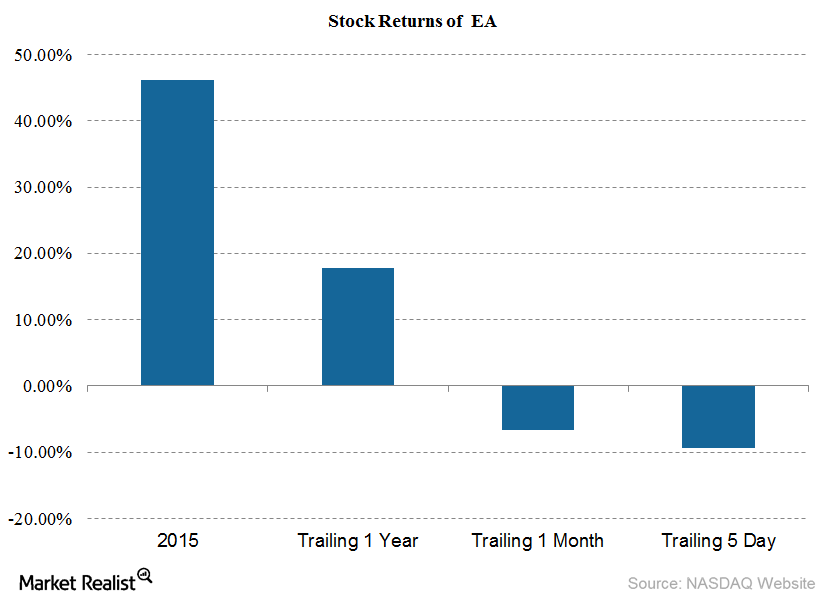 Shareholder returns and stock trends
Electronic Arts (EA) generated investor returns of 17.8% in the trailing 12 months and -6.6% in the trailing one month. In comparison, it generated 46.2% returns in 2015, and the company's share price fell 9.4% in the trailing five days.
Activision Blizzard (ATVI), Zynga (ZNGA), and Take-Two (TTWO) generated returns of 94%, -5.5% and 24.3%, respectively, in 2015.
Article continues below advertisement
Article continues below advertisement
Moving averages
On February 1, Electronic Arts closed the trading day at $64.2. Based on this figure, here's how the stock fared in terms of its moving averages.
7.1% below its 100-day moving average of $69.12
5.6% below its 50-day moving average of $67.98
3% below its 20-day moving average of $66.17
Moving average convergence divergence and RSI
The MACD or moving average convergence divergence is the difference between a company's short-term and long-term moving averages. Electronic Arts' 14-day MACD is -0.89. This negative figure shows a downward trading trend.
The company's 14-day RSI or relative strength index is 40, which shows that the stock is slightly oversold. Generally, if the RSI is above 70, it indicates that a stock is overbought. An RSI figure below 30 suggests a stock is oversold.
Analyst recommendations
Out of 23 analysts covering Electronic Arts (EA), 18 have a "buy" recommendation and five recommend a "hold." Analysts' stock price target for the firm is $83.82 with a median target estimate of $83. This means Electronic Arts is trading at a discount of 29% with respect to the median analyst price target.
Activision is 3.9% and 1.4% of the iShares North American Tech-Software ETF (IGV) and the First Trust ISE Cloud Computing Index ETF (SKYY), respectively.