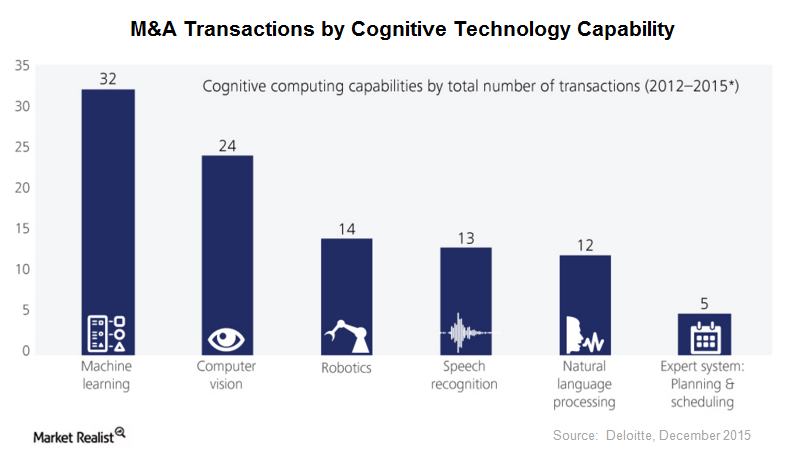 What Is Driving Splunk's Double-Digit Revenue Growth?
By Anne Shields

Feb. 29 2016, Updated 10:56 a.m. ET
SMAC revolution has contributed significantly to Splunk's growth
Previously in the series, we discussed Splunk's (SPLK) recently announced fiscal 4Q16 and 2016 results. Splunk's double-digit revenue growth continued in fiscal 4Q16 and 2016 as well. Though leading technology players like IBM, Oracle, and Microsoft (MSFT) are finding it difficult to grow their revenues, the situation is quite the opposite for Splunk. The reason lies in its products and offerings, which cater to big data and are specially customized for machine-generated data.
Article continues below advertisement
Owing to the SMAC (social, mobile, analytics, and cloud) revolution, big data and cloud have become two rapidly growing areas in the technology space. They both have played a significant role in Splunk's growth. According to Hortonworks, big data was worth approximately $27 billion in 2015 and is expected to be a $100 billion market by 2020.

The significant growth potential explains why technology players are pouring billions of dollars into this space. IBM (IBM) is betting billions of dollars on the big data space. Oracle (ORCL) has added an integrated module, Oracle Data Integrator, specifically for its big data suite of offerings.
Splunk was named as "one of Fast Company's ten most innovative companies in big data" for the third straight year. Government Security News also voted Splunk Enterprise as the "best big data analytics solution."
Splunk's acquisitions expanded its domain
To leverage the growth in the data and analytics market, Splunk has tried to build up its expertise and broaden its domain through acquisitions. In mid-2015, it acquired Capsida for $190 million. Capsida, a startup in the cybersecurity space, identifies internal and external threats by relying on machine learning technologies. Metaphor Software was another acquisition Splunk made in 2015. Metaphor Software is an anomaly and prediction analytics company.
The SMAC revolution, the BYOD (bring-your-own-device) trend, and the increase in the mobile workforce are changing the cybersecurity landscape. Gartner expects IT security spending will hit $101 billion in 2018 compared to ~$75 billion in 2015. Research firm Markets and Markets expects the cybersecurity market to be worth $170 billion by 2020.
Thus, Splunk is likely to benefit in the future from the growth potential in the cybersecurity space. Investors who want to gain exposure to the cybersecurity space can consider investing in the PureFunds ISE Cyber Security ETF (HACK).