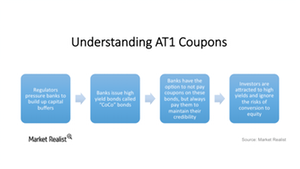 Why Are Deutsche Bank Investors So Concerned About AT1 Coupons?
Investors are concerned about Deutsche Bank's ability to meet AT1 coupons
Shares of Deutsche Bank (DB) have fallen nearly 10% in the last three trading sessions. The bank's efforts to reassure investors about its ability to pay coupons on its AT1 (additional Tier 1) bonds were in vain. The bank has 350 million euros of AT1 coupon maturity on April 30, 2016. For 2017, Deutsche Bank said its estimated payment capacity is approximately 4.3 billion euros, excluding any impact from 2016 operating results.
Article continues below advertisement
What are AT1 bonds?
First, let's understand why AT1 bonds are important. AT1 bonds are also known as contingent convertible bonds, or CoCo bonds. Major European banks (EUFN) such as UBS, Credit Suisse(CS), Royal Bank of Scotland (RBS), and Société Générale (SCGLY) have issued ~91 billion euros of additional Tier 1 capital since April 2013 after regulators pressured them to build up their capital buffers. These bonds offer slightly higher yields than regular bank debt since coupon payments on them are at the discretion of their issuers.
Investors were attracted to these higher yields and average coupons of 6.6% and ignored the risks associated with the conversion of these bonds to equities. Banks have always met their coupon payments, as a default would mean panic in the markets.
Lately, however, profitability of banks has been suffering due to stringent regulations, staggering economic growth, and low interest rates. Additionally, a slowdown in China and falling oil prices are sending shivers around the globe, giving investors the jitters and slowing down market activity.
So if all European banks are suffering, why are investors specifically concerned about Deutsche Bank? Read the next part to find out.