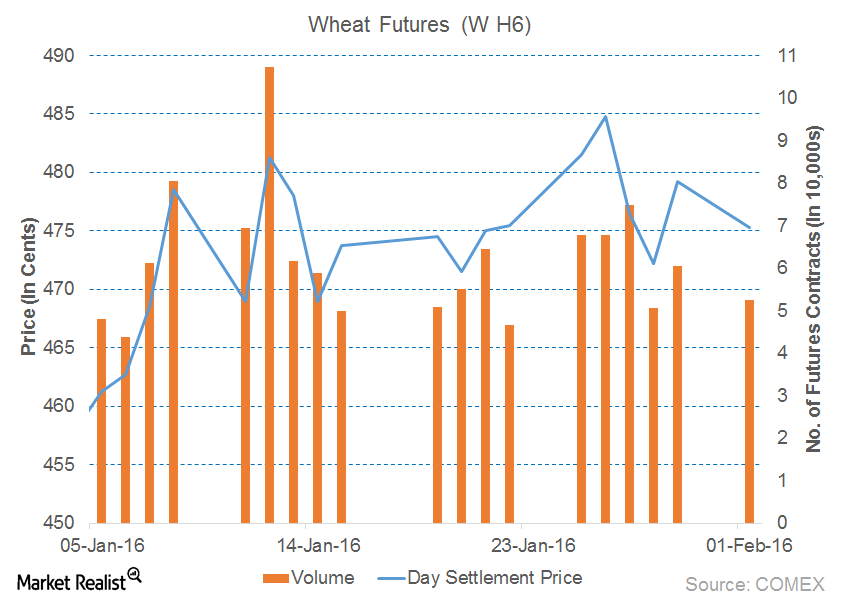 What Caused Wheat Prices to Fall?
Wheat prices fell
March wheat futures trading on the CBOT (Chicago Board of Trade) fell by 0.83% and closed at $4.75 per bushel on February 1, 2016. Wheat futures prices fell due to speculation of uncertain quality parameters exercised by Egypt—the top wheat importer. The Teucrium Wheat Fund (WEAT) didn't change despite prices falling on the CBOT. It was at $9.18 on February 1, 2016.
The question about Egyptian quality parameters surfaced again on February 1, 2016. The top wheat-exporting country confirmed that the French wheat imported lot was rejected due to ergot fungus contamination. The GASC (General Authority for Supply Commodities) is the Egyptian authority responsible for handling state supplies. It set the standard for 0.05% levels of legal contamination limits for the quality parameters. However, it was in the news for the proposal of a zero contamination acceptance level. French wheat fell sharply on February 1 due to unfavorable export sentiments as a result of quality issues. Traders and speculators believe that the GASC might be exercising a zero tolerance level despite higher set legal tolerance. The speculations of uncertain quality parameters and exercise are negative for major wheat exporting countries. US wheat also fell due to the negative wheat export sentiment on February 1, 2016.
Article continues below advertisement
Iran stated that from March 20, 2016, the state authorities won't import wheat. This shows confidence in the sufficiency of domestic production meeting the domestic demands. Due to this decision, traders importing wheat from the open market would benefit from the concessionary exchange rates offered for staple food commodity imports. It had a negative impact on the US wheat export sentiment on February 1, 2016.
Fertilizer companies impacted
The fall in wheat prices had a negative impact on farm incomes. It also had a negative impact on fertilizer businesses. The income falls for producers. Intrepid Potash (IPI), Terra Nitrogen (TNH), Monsanto (MON), and Potash Corporation of Saskatchewan (POT) fell by 4.6%, 2.6%, 0.52%, and 2.6% on February 1, 2016. The PowerShares DB Commodity Index Tracking Fund (DBC) fell by 1.9% on February 1, 2016.