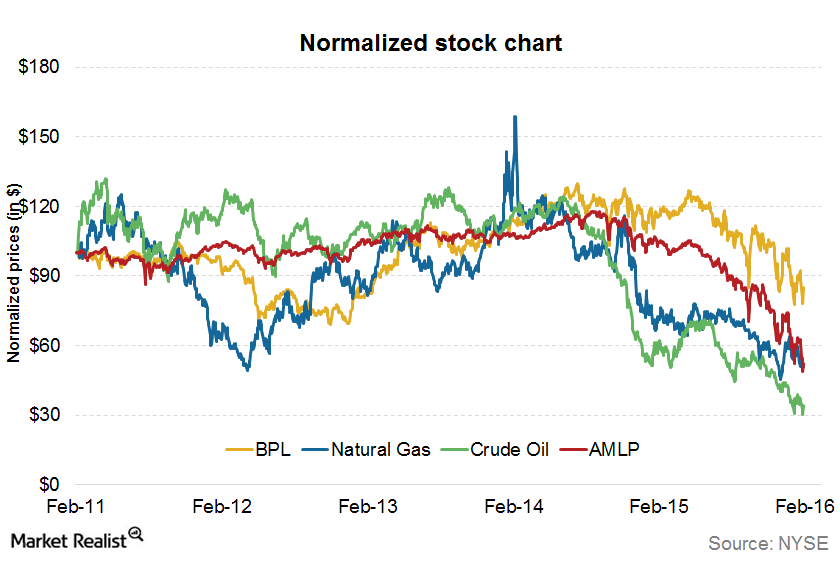 Why Did Buckeye Partners Outperform the Alerian MLP ETF?
By Kurt Gallon

Feb. 17 2016, Updated 9:07 a.m. ET
Buckeye Partners' market performance
Buckeye Partners (BPL) lost 27.1% of its market value in the past year. Its peers, NGL Energy Partners (NGL), World Point Terminals (WPT), and VTTI Energy Partners (VTTI) have lost 78.5%, 34.6%, and 33.1%, respectively. The Alerian MLP ETF (AMLP) fell by 50.2%. This indicates a general negative sentiment in the entire midstream sector. However, Buckeye Partners outperformed most of its peers and the broader midstream MLP sector during the past year—likely due to its low commodity price exposure.
Article continues below advertisement
Buckeye Partners' indirect commodity exposure
Midstream companies are indirectly exposed to commodity prices through production levels. If crude oil and natural gas prices continue to stay low, upstream producers might cut their production or even go bankrupt. This could result in lower throughput volumes, lower earnings, and higher counterparty risk. Keith E. St. Clair, Buckeye Partners' CFO, highlighted each segments' counterparty exposure in the 4Q15 earnings call.
Pipelines & Terminals – "Our refined products pipeline and terminals system is primarily a demand pull system, meaning we supply product to satisfy the end market that is the gas station and the airport or the industrial user. If an existing customer were to experience credit-related issues, we expect that other customers would step in to meet that existing market demand utilizing our system."
Global Marine Terminals – "The majority of our customer base in the GMT segment are system users of our segregated storage meaning that our facilities are an integral of their supply logistics."
Merchant Services – "Our Merchant business, where we supply product to a number of smaller mom-and-pop retail and regional wholesale suppliers that are typically sub-investment grade or not rated. In this situation, we attempt to limit our risk by requiring credit enhancements such as LCs or collateral, lien rights and even prepayment in certain instances."