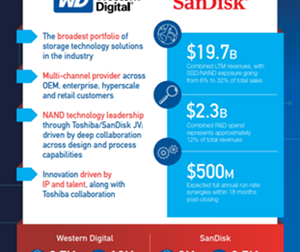 Why Is Alken Against the Western Digital–SanDisk Merger?
By Puja Tayal

Aug. 18 2020, Updated 9:24 a.m. ET
Barriers to the Western Digital–SanDisk merger
In the previous part of this series, we saw that Western Digital's (WDC) acquisition of SanDisk (SNDK) is at a crossroads. It faces the termination of China's (MCHI) Unisplendour deal and opposition from major investor Alken Asset Management, which holds more than 5 million WDC shares. We've looked at the reason for Unisplendour's withdrawal from the deal. Now let's see why Alken has turned againt the merger.
Alken has stated that the $19 billion price tag is too high, given the weakness in SanDisk's markets and business and an unfavorable capital market.
Article continues below advertisement
Increasing competition in NAND market
Western Digital has announced some strategic synergies. One is exposure in the fast-growing NAND (negative-AND) market.
At the time the merger was announced, SanDisk's joint venture with Toshiba (TOSBF) showed promising results in the 3D NAND market. However, Toshiba reported a record annual loss of more than $6 billion in fiscal 2015, which almost cut its share price in half. The dire state of its finances has raised concerns whether the company can fund the NAND operations.
Since the merger announcement, Intel (INTC), Micron Technology (MU), and a Tsinghua Unigroup subsidiary have announced plans to invest in memory chip plants. This is increasing competition in the NAND space.
Changing market dynamics
In a public letter, Alken Asset Management stated that the NAND business has changed since the merger was announced. EPS (earnings per share) estimates for NAND vendors SanDisk, Micron, Toshiba, Samsung, and SK Hynix have fallen by more than 30% as the competition intensifies. Slowing smartphone and PC (personal computer) sales have affected memory sales.
High leverage, low synergies
Western Digital highlighted that the merger would bring synergies of $500 million within 18 months from the close of the transaction. Moreover, it would improve production capacity and margins. While these synergies would improve earnings, the merger would also create a hefty debt for Western Digital.
The combined company would carry a debt of $14 billion, which equates to 2.3x EBITDA (earnings before interest, tax, depreciation, and amortization), excluding merger synergies. Moreover, interest rates have increased since the merger was announced, thus making debt more expensive.
In light of the changes in the business and capital markets, Alken is urging Western Digital to back out of the merger by paying a $184.4 million termination fee.
In the next part of the series, we'll look at SanDisk's current financial position.