What's Driving Sequential Same-Store Sales Growth for Lowe's?
Lowe's (LOW) has reported a positive trend in comparable store sales (XRT) for the past ten quarters.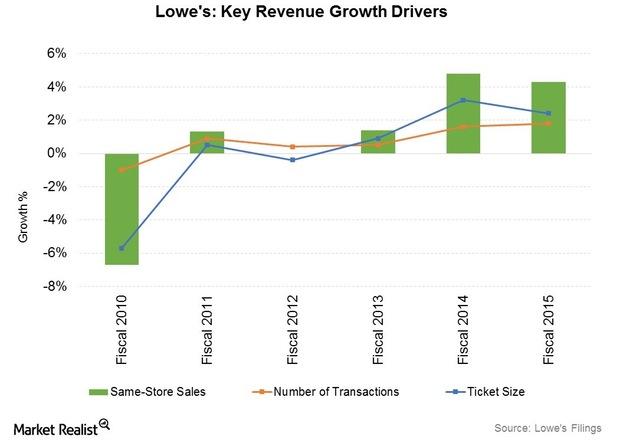 Lowe's posted positive comparable store sales for ten straight quarters
Lowe's (LOW) has reported a positive trend in comparable store sales (XRT) for the past ten quarters. Sales growth for the retailer has been spurred by both increases in ticket size and a higher average number of transactions, particularly in big-ticket items. More importantly, the retailer has been experiencing broad-based sales growth across merchandising categories and geographies both in the US and abroad.
Article continues below advertisement
Article continues below advertisement
Lowe's recent performance shows sales acceleration
Lowe's sales growth in fiscal 2016[1. Fiscal year ending January 29, 2016] has been robust. The retailer reported positive comps in all 14 reporting regions in the past three quarters in most product categories.
In the first nine months of fiscal 2016, Lowe's net sales rose 4.9% with same-store sales rising 4.6%. Both average ticket size with a 2.8% increase and comparable transactions with a 1.8% increase were up, spurring the rise in comparable store sales.
In comparison, Lowe's had reported sales growth of 4.6% with comparable store sales rising 3.5% in the first nine months of fiscal 2015.
Same-store sales growth drivers
At an economy-wide level, improving labor and housing markets and low interest rates have provided a boost to home improvement retailers Lowe's and Home Depot (HD), as well as benefited firms like Restoration Hardware (RH) and Williams-Sonoma (WSM), which operate at a relatively higher end of the market. Home Depot, Restoration Hardware, and Williams-Sonoma reported same-store sales of 5.1%, 7%, and 4.5%, in their last respective quarters.
At a company-wide level, higher ticket size has been boosted by the higher appliance and seasonal living sales to retail customers. Both categories posted above-average comps.
The increase in Lowe's ticket size could also be partly driven by pro customers. Pro customers tend to drive recurring purchases. As discussed in part five of this series, pros also tend to spend more per transaction. Lowe's has considerably increased the attractors for this customer segment and consequently benefited.
The provision of value-added services like project specialists for exteriors and interiors, as discussed in part four, have also boosted ticket size.