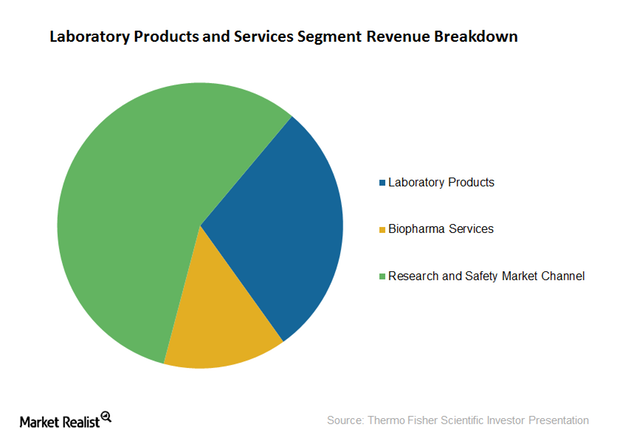 Thermo Fisher Scientific's Laboratory Products and Services Segment
Overview
Thermo Fisher Scientific (TMO) is the country's leading provider of laboratory products and services. The company's Laboratory Products and Services segment earned revenues of approximately $6.6 billion in 2014, representing organic growth of around 5%.
This segment is segregated into four business divisions: Laboratory Equipment, Laboratory Consumables, Research and Safety Market Channel, and Biopharma Services. The Research and Safety Market Channel is the largest division, constituting around 57% of the total segment revenues.
Article continues below advertisement
Article continues below advertisement
Laboratory Products
The Laboratory Products segment provides manufactured and sourced equipment and consumables used in laboratories for preparation, storage, and analysis of the samples. Laboratory instruments are primarily used by pharmaceutical companies, biotechnology companies, and universities involved in life science research.
The Laboratory Consumables segment consists of plastic, glass, and related equipment for regular use in the customers' research activities.
Research and Safety Market Channel
Thermo Fisher Scientific offers an industry-leading portfolio of products through efficient supply chain management. The company offers approximately 417,000 products, which are marketed by its global sales force utilizing e-commerce platform and printed catalogs in multiple languages.
Support services, training, and equipment servicing are offered by Thermo Fisher to its customers via its Unity Lab Services business. The majority of the segment's revenues are earned via the company's Research and Safety Market channel.
Biopharma Services
Thermo Fisher acts as a global supply chain partner and offers services such as logistics, supply chain planning, management, and specialized packaging to biotechnology and pharmaceutical companies. The company also provide biobanking services, which offers storage of pharmacological and biospecimen samples. Biopharma Services generate ~14% of the segment revenues.
Some of the competitors of Thermo Fisher Scientific include Becton Dickinson (BDX), Baxter International (BAX), and Abbott Laboratories (ABT). One of the major funds with exposure to Thermo Fisher Scientific is the Health Care Select Sector SPDR ETF (XLV), which has 2.1% of its total holdings in TMO.