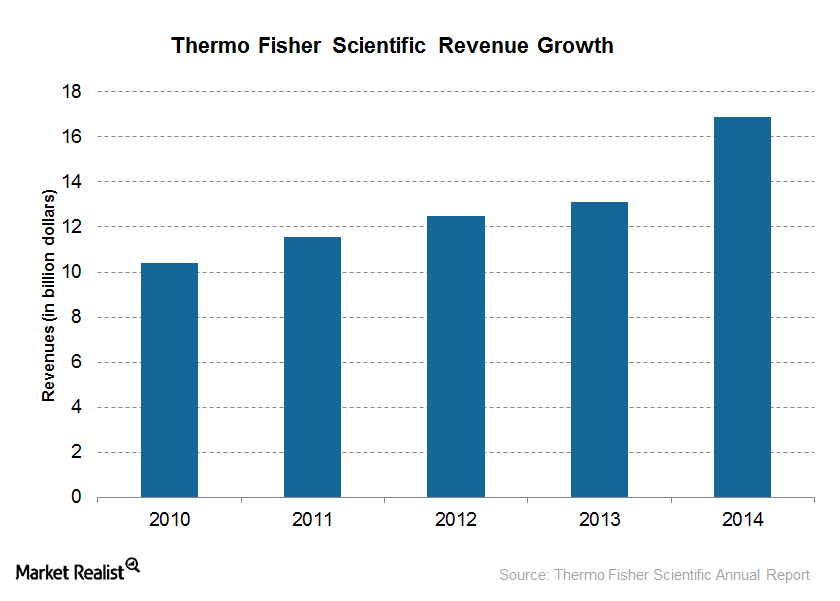 Thermo Fisher Scientific: A Leading Medical Technology Company
Company overview
Thermo Fisher Scientific (TMO) is one of the leading medical technology companies in the world, providing a broad portfolio of laboratory equipment and services. Headquartered in Waltham, Massachusetts, Thermo Fisher Scientific operates in more than 50 countries and has over 50,000 employees.
The company was formed by the merger of Thermo Electron and Fisher Scientific in 2006. Thermo Electron was the UK's leading provider of analytical and scientific instruments, consumables, software, and services. Fisher Scientific was a scientific laboratory equipment company based in the United States. In 2014, Thermo Fisher Scientific earned revenues of ~$16.9 billion against $13.1 billion in 2013.
Article continues below advertisement
A brief history of Thermo Fisher Scientific
Founded in 2006, Thermo Fisher Scientific was formed by the merger of UK's Thermo Electron and Fisher Scientific. The company traces its origins to 1956 when Thermo Electron was founded by George N. Hatsopoulos, who earned a PhD in mechanical engineering from MIT, and Peter M. Nomikos, a graduate of the Harvard Business School.
Thermo Electron held a product portfolio comprising analytical and laboratory products. The company reported revenues of ~$2 billion in 2004. Fisher Scientific was founded in 1902 and provided laboratory equipment products and services.
Abbott Laboratories (ABT), Becton Dickinson (BDX), and Agilent Technologies (A) are Thermo Fisher Scientific's major competitors. The iShares US Medical Devices ETF (IHI) is a focused exchange-traded fund that measures the performance of the medical device industry in the United States. Investors seeking exposure to Thermo Fisher Scientific can invest in IHI, which has an allocation of ~8.8% to the company.