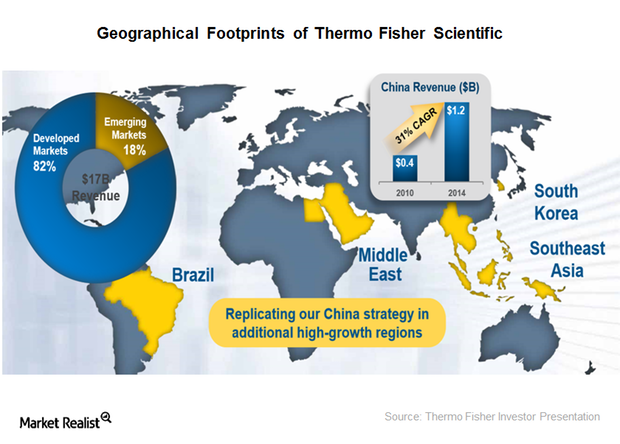 The Geographic Strategy of Thermo Fisher Scientific
Overview
Thermo Fisher Scientific (TMO) is a global company, but the majority of its revenues are generated from the developed markets. The United States is the company's largest market, generating ~48% of the company's total revenues.
Notably, emerging markets constitute approximately 18% of the company's total revenues, and China has emerged as the second-largest market for Thermo Fisher.
Article continues below advertisement
Article continues below advertisement
Domestic market
Thermo Fisher Scientific has a strong presence in the United States market, driven by a large number of merger and acquisitions transactions, as well as its strong R&D capabilities that lead to the development of new products.
With the acquisition of Life Technologies, the company has strengthened its position across the US market and expanded across the Life Sciences Solutions market. Additionally, with the launch of new products such as new immunodiagnostic tests and instruments, and a High-Performance Liquid Chromatography (or HPLC) system called Prelude LX-4 MD that is used to separate and analyze components of a mixture, the company expects to achieve substantial growth.
Emerging markets strategy
Revenues generated from China grew at a compounded annual growth rate of 31% between 2010–2014. China has emerged as the second-largest market for Thermo Fisher Scientific, where the company employs more than 4,000 people. The company aims to replicate a similar growth strategy in other high-growth emerging nations, especially Southeast Asia, India, and Brazil.
As part of its growth initiatives, the company has established Centers of Excellence (or COEs) across various emerging nations with the aim of strengthening its commercial reach, manufacturing, and R&D capabilities in the region.
Some of the other major players in the US medical device industry with significant international operations are Medtronic (MDT), Abbott Laboratories (ABT), and Baxter International (BAX). Investors can gain diversified exposure to the companies in the medical device industry by investing in the Guggenheim S&P Equal Weight Health Care ETF (RYH). Thermo Fisher Scientific accounts for around 1.9% of RHY's total holdings.