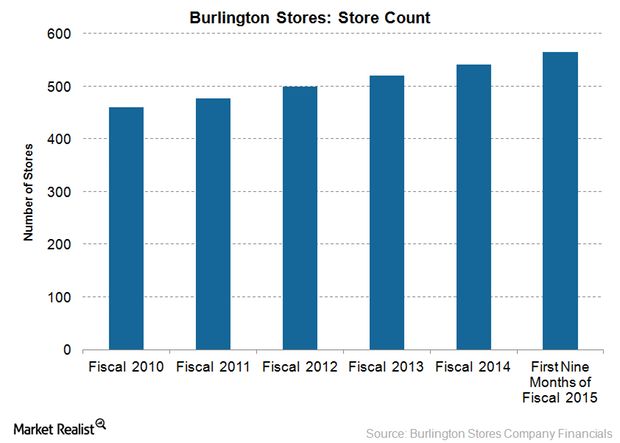 Why Smaller Stores Provide a Better Growth Option for Burlington Stores
Burlington's average store size
Burlington Stores (BURL) operates stores in the 50,000–80,000 square feet size range. In recent years, the company has been focusing on opening smaller stores. The average size of the new stores opened in fiscal 2013 and 2014 was a little over 60,000 square feet.
At the Goldman Sachs Global Retailing Conference held in September 2015, Thomas A. Kingsbury, Burlington Stores' president, CEO (chief executive officer), and chairman, stated that in fiscal 2015 ending January 30, 2016, the average size of the new stores will be 54,000 square feet, with only one store over 60,000 square feet. In fiscal 2016, the company plans to open two stores that are under 40,000 square feet in size.
Article continues below advertisement
Burlington's store count
Burlington Stores' store count increased from 13 stores in 1980 to 542 stores, inclusive of an internet store, as of fiscal 2014, which ended January 31, 2015. As of January 31, 2015—aside from operating 524 stores under the Burlington Stores name—the company also operated two stores under the Cohoes Fashions name, two stores under the Super Baby Depot name, 13 stores under the MJM Designer Shoes brand, and one store under the Burlington Shoes name.
In fiscal 2014, the company opened 24 new stores and closed three stores. The company planned to open 25 net new stores in fiscal 2015, which it completed with the opening of a new store in November 2015. As of October 31, 2015, Burlington Stores operated 566 stores. The portfolio holdings of iShares Russell 2000 Growth ETF (IWO) include an exposure of 0.4% to Burlington Stores.
As of October 31, 2015, TJX Companies (TJX) operated 2,679 stores in the US, 387 stores in Canada, 493 stores in Europe and 35 stores in Australia from the October 2015 acquisition of Trade Secret. Ross Stores (ROST) operated 1,448 stores as of October 31, 2015. Nordstrom (JWN) operated 323 stores as of October 31, 2015, of which 194 were its off-price Rack stores.
Rationale for smaller stores
Burlington Stores lags its peer group in terms of sales per square foot, primarily because of its Baby Depot department, higher square footage dedicated to its men's tailored business, and its coats and outerwear businesses. Still, Burlington believes that given the rising same-store sales, having smaller stores will help it in enhancing its productivity per square foot. In its 3Q15 conference call, for example, the company's CEO stated that the small store formats are 22% more productive than the chain balance. These small stores also support the company's strategy to operate with lower inventory levels.
In the next part of this series, we'll discuss Burlington's inventory management.