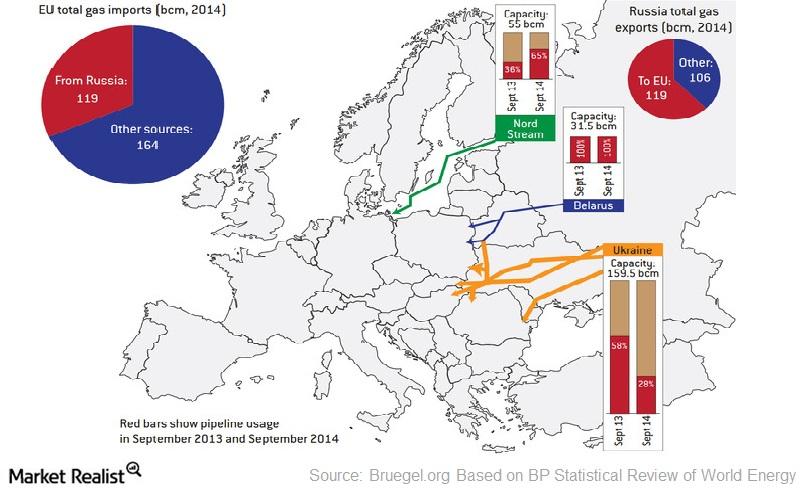 Russia's Gas Pipeline Network in Europe
By Rabindra Samanta

Jan. 19 2016, Published 7:57 a.m. ET
Russian natural gas pipeline network
The European Union (FEZ) depends mostly on imports to meet its gas needs. Europe accounts for a significant portion of Russia's gas exports. Russia's (RSX) heightening tensions with Ukraine in recent years caused the energy supplier to consider other possible routes to Europe.
The above map shows gas pipelines going from Russia to Europe. The pipeline passing through Ukraine has a capacity of 159.5 Bcm (billion cubic meters). The operation statistics in 2014 showed that the pipeline's load fell by 50% compared to 2013. This can be attributed to the geopolitical issues and pricing disagreements that developed between Ukraine and Russia.
Article continues below advertisement
Meanwhile, the Nord Stream directly supplies gas to Germany through the Baltic Sea. The load on this pipeline rose significantly as the load on the pipelines passing through Ukraine fell. Germany is among Russia's top trading nations in Europe apart from China. Most of Germany's energy requirements are met by Russian exports. The pipeline that passes through Belarus connects to Polland. In 2014, Polland consumed 16.3 Bcm of natural gas. This pipeline operated with a capacity of 31.5 Bcm. It was 100% operational in 2014.
Importance of these pipelines to Gazprom PAO
Gazprom PAO (OGZPY) supplies most of its natural gas to the Europe through these pipelines. Gazprom PAO is developing the Nord Stream to enhance its capacities. Recently, Italian oil and gas company Eni (EAA) denied reports of buying stake in Nord Stream. Lukoil (LUKOY) is another Russian (RSX) oil and gas company. It operates with a production mix of 13% in natural gas.