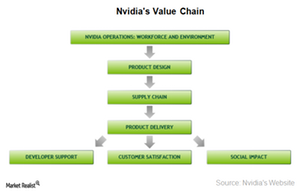 How Product Design Wins Impact Nvidia's Revenues
Supply chain
So far, we've looked at Nvidia's (NVDA) products, the industry trends driving its sales, and the target audience for whom these products are made. Let's understand the whole supply chain of the company and the opportunities and threats faced at each step.
The supply chain comprises marketing, R&D (research and development), manufacturing, and inventory management. These activities are performed by peers, suppliers/foundries, customers, and competitors.
Article continues below advertisement
Marketing and design wins
Nvidia designs GPUs (graphic processing units) for OEMs (other equipment manufacturers), system builders, and AIB (add-in board) manufacturers. As GPUs are at the core of a product, they need to be modified as per the end product configuration. Hence, Nvidia's marketing team works closely with its customers and gets design wins.
As the whole task consumes a lot of time and resources, customers such as automotive makers are reluctant to change their GPU suppliers.
However, as the design win process is lengthy and expensive, Nvidia has a limited customer base representing a large portion of its revenue. If the company loses a customer, it directly affects its revenue. The company's largest customer accounted for 11% of its fiscal 2015 revenue.
R&D
Nvidia's revenue depends on design wins. The company maintains strong relationships with customers to assist them in defining their new products. For instance, Nvidia is working with Tesla Motors (TSLA) on a multi-touch infotainment system and a digital instrument cluster. It's also collaborating with more than 50 companies in developing self-driving car technologies using Nvidia DRIVE PX.
Any innovation, if successful, gives the company a first-mover advantage and helps capture market share. Qualcomm (QCOM) has this advantage in mobile baseband and Samsung (SSNLF) has it in memory products.
Nvidia has to anticipate the features and functionality required by the customer and develop products accordingly and at competitive pricing. If the company's anticipation turns out to be wrong, it fails to achieve the design win.
The company's customers generally introduce new system configurations every six months, in spring and fall design cycles. If the company fails to win the design, it has to wait until the next design cycle to achieve design wins.
We'll discuss the manufacturing aspect of the supply chain in the coming part of the series. The Technology Select Sector SPDR ETF (XLK) has exposure to the entire technology supply chain. It has 0.41% exposure to Nvidia and 1.8% to QCOM.