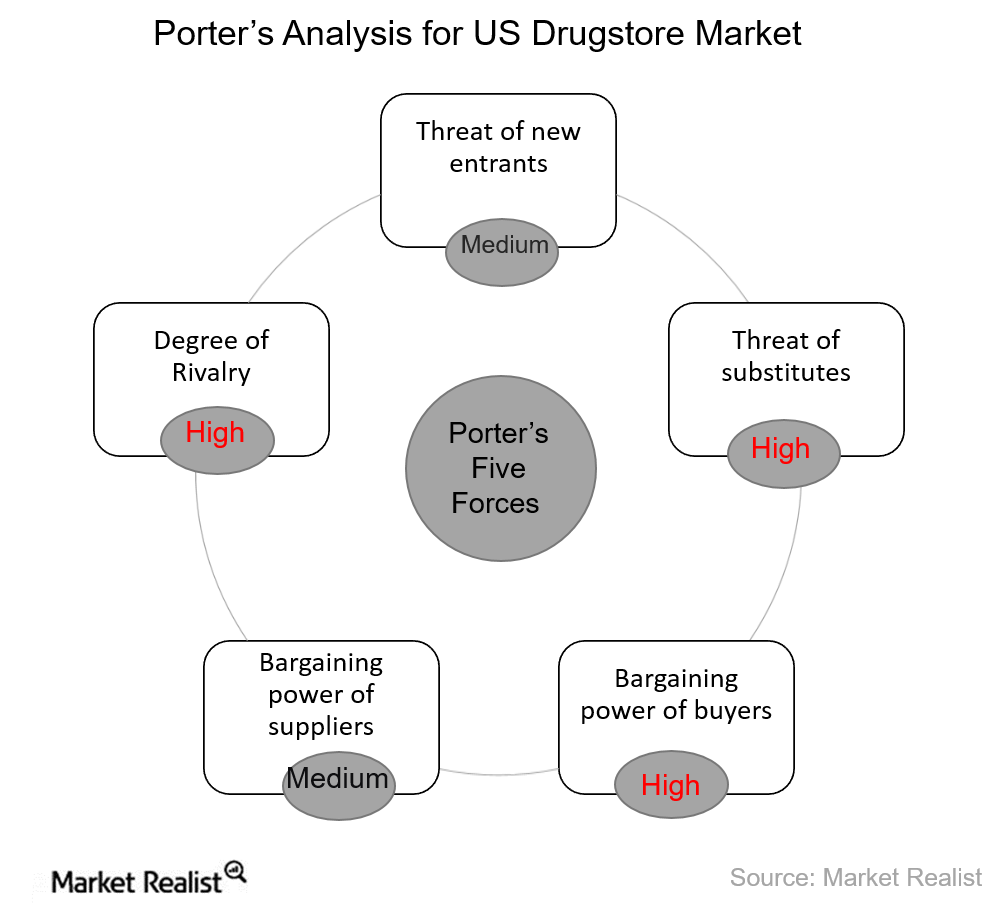 Porter's Five Forces Analysis of the US Drugstore Industry
Porter's five forces model
Porter's five forces model is used to assess the nature of competition and attractiveness of an industry. In this section, we'll conduct a Porter's five forces analysis for the US drugstore industry. The model suggests that there are five forces that determine the attractiveness and long-term profitability of an industry. These include:
the degree of rivalry within the industry
the threat of substitutes
the threat of new entrants
bargaining power of buyers
bargaining power of suppliers
Article continues below advertisement
Article continues below advertisement
Analysis of the US drugstore industry
The US drugstore industry's demand is driven by the aging population, increasing awareness of health issues, and advances in medical treatment. The industry is dominated by a few big players such as Walgreens Boots Alliance (WBA) and CVS Health (CVS). The degree of rivalry is high, with multiple competitors including drug retail chains, supermarkets such as Kroger (KR), and mass merchandisers such as Walmart (WMT) and Costco Wholesale (COST). The traditional drugstore chains face an increasing threat from online drug ordering.
The profitability of individual companies depends on their access to medical insurance groups. Bigger companies benefit from economies of scale—not only in purchasing, but also in access to large groups of customers. Supplier relationships are important and drugstores typically have strong, long-term relationships with suppliers. For example, Walgreens Boots Alliance and AmerisourceBergen (ABC) recently entered into a ten-year pharmaceutical distribution agreement under which AmerisourceBergen would supply branded and generic pharmaceutical products to Walgreens in the United States. While the industry is concentrated, there is still room for smaller players who can compete effectively by opening stores at convenient locations or by selling special merchandise.
ETF exposure