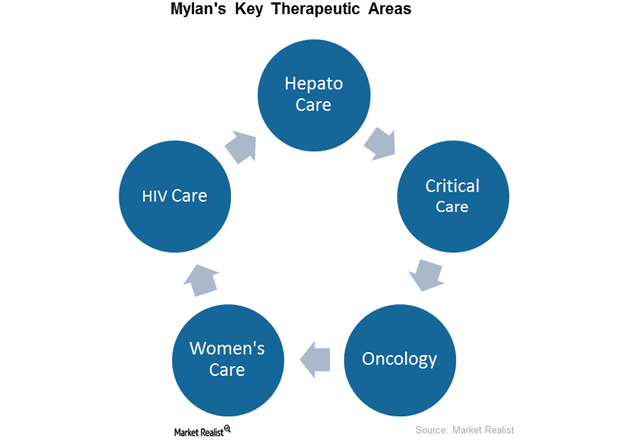 Mylan Product Portfolio across Key Therapeutic Areas
Mylan's key therapeutic areas
Mylan NV (MYL) is a leading pharmaceutical company that operates in more than 140 countries. The company operates across the following five different therapeutic areas:
hepato care
critical care
women's care
HIV care
oncology
Article continues below advertisement
Mylan's critical care portfolio
Critical care medicines are used for treating bacterial or fungal infections. These infections are common in developing countries such as India and the economically weak African countries. Patients infected with bacteria witness high mortality rate compared to healthy people.
Mylan manufactures high quality and affordable antibacterial drugs for critical care patients admitted to intensive care units. The company's key products involve drugs such as Agidap, AmBisome, Merowin, Rolnem, Tazpen, and Ticoroy.
Mylan's hepato care portfolio 
The WHO (World Health Organization) explains viral hepatitis as an "inflammation of the liver" that can be "self-limiting or can progress to fibrosis (scarring), cirrhosis or liver cancer," specifying that the "hepatitis virus is the most common cause of hepatitis in the world, but other infections, toxic substances (e.g. alcohol and certain drugs) and autoimmune diseases can also cause hepatitis." Mylan's key products in this segment are MyHep, Ricovir, Sovaldi, and Viread.
Article continues below advertisement
In the oncology department
Oncology deals with cancer and its treatment. MedicineNet explains cancer as "the uncontrolled growth of abnormal cells anywhere in a body." Mylan has developed several drugs such as Hertraz, Rolcade, Stricyte, and Stritoxol to treat cancer patients.
Mylan's HIV care portfolio
According to a survey conducted by the WHO, about 36.9 million people were suffering from AIDS in 2014. Mylan has developed a comprehensive portfolio of ARV (antiretroviral) drugs for the treatment of AIDS. Mylan's primary products in the HIV care segment include Alltera, Ricovir, Teevir, and Telura.
The women's care porfolio
Mylan also offers drugs for different ailments related to women such as infertility, miscarriages, and other post menopause-related reactions. The company manufactures drugs such as hormone replacement therapy, pre- and post-natal supplementation, and post-menopause care for improving women's health. The company's drugs in this segment are MyDHEA, Visna, and MyESTRA.
Other generic companies such as Teva Pharmaceuticals (TEVA), Pfizer (PFE), and Sanofi SA (SNY) also operate in different therapeutic areas.
Instead of directly investing in Mylan, investors can get diversified exposure to Mylan by investing in the SPDR S&P Pharmaceuticals ETF (XPH), which has 3.8% of its total holdings in Mylan's stock.
In the next part of this series, we'll get specific with Mylan's antiviral portfolio.