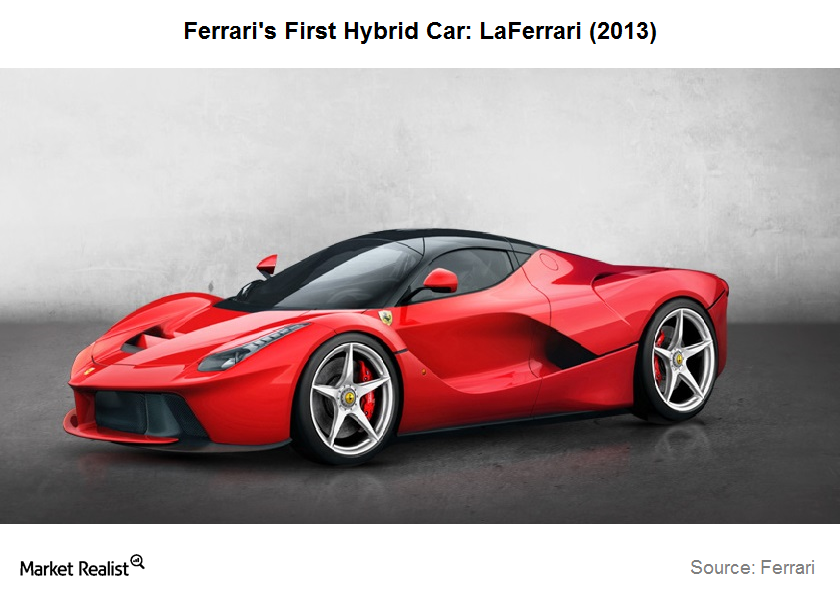 A Much-Needed Step towards an Eco-Friendly Ferrari
Why is change necessary?
We're living in an era where people and governments around the world are becoming aware and concerned about the negative impact of global warming. This awareness can be seen in today's automobile industry to some extent. More companies are working to develop environmentally friendly technology for their vehicles. But with rapid change in customer preferences, automobile manufacturers will have to work faster to stay ahead of the competition and meet consumer expectations in an environmentally friendly manner.
Article continues below advertisement
Ferrari in the luxury hybrid car segment
Today we have new market entrants like Tesla (TSLA) showcasing the potential of eco-friendly vehicles without compromising performance and luxury. Recently, established automobile players like Lexus of Toyota (TM) with its Lexus RX 400h and 450h, Porsche (POAHF) with its Cayenne S E-Hybrid and Panamera S E-Hybrid, and Lamborghini of Volkswagen (VLKAY) with its Asterion LPI 910-4 have already established their presence in this segment by producing fuel-efficient hybrid cars. Some of these companies pose direct competition to Ferrari in the GT and sports car segments also. General Motors (GM) has plans to launch its new hybrid car model in 2016. As of January 6, 2016, Tesla (TSLA) makes up ~0.55% of the PowerShares QQQ Trust Series 1 ETF (QQQ).
LaFerrari: a powerful hybrid machine
Ferrari (RACE) also launched its ambitious first hybrid, LaFerrari, in 2013. The supercar has a V12 hybrid engine and uses F138 KERS technology, initially developed for Scuderia Ferrari's racing cars. Its hybrid system comprises two electric motors and a special battery consisting of cells. LaFerrari's hybrid technology allows the car to keep CO2 emissions levels nearly 50% less than its predecessor car model, Enzo. This project was also important for Ferrari, as LaFerrari showcases the ability and intentions of the company to generate fuel-efficient yet powerful hybrid cars in the future.
Ferrari, like its other competitors, has plans to produce luxury performance cars with the combination of improved performance and reduced carbon dioxide emissions. But Ferrari's continued efforts in this direction will be required to maintain pace with changing customer preferences.