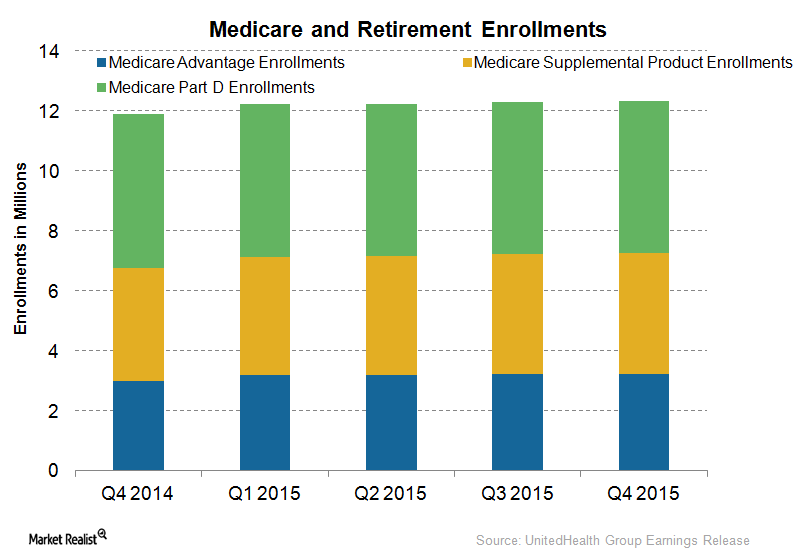 Medicare Plans Were Key Drivers of UnitedHealth Group's Revenues
By Margaret Patrick

Jan. 22 2016, Updated 11:48 a.m. ET
UnitedHealthcare Medicare & Retirement business
UnitedHealthcare Medicare & Retirement business offers Medicare Advantage (or MA) plans, Medicare Supplement Insurance Plans, and stand-alone Medicare Part D prescription drug plans (or PDP) to Medicare beneficiaries and other senior members. The segment earned revenues worth $49.7 billion in 2015, a year-over-year (or YoY) increase of 8%. Revenues in 4Q15 were $12.1 billion, a YoY increase of about 6%.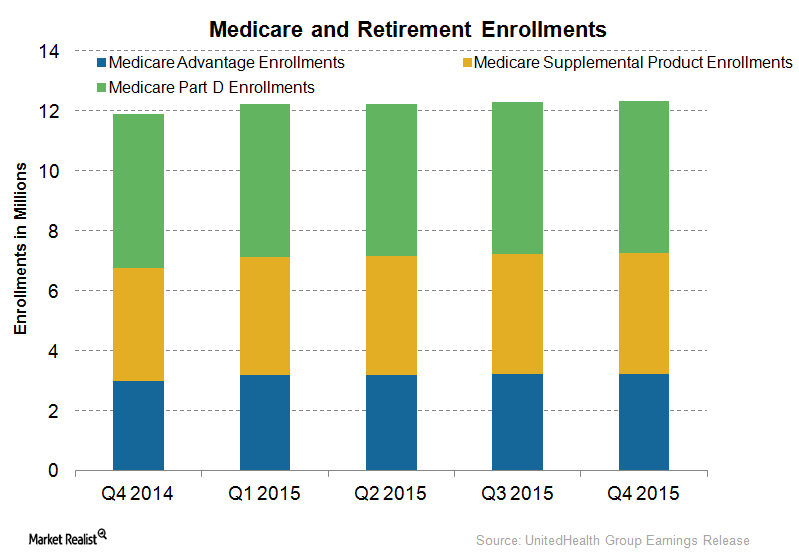 The above graph shows that in 4Q15, MA enrollments and Medicare Supplemental product enrollments rose about 7.6%. PDP enrollments declined about 2% on a YoY basis. In full year 2015, MA and Medicare Supplement Insurance Plans added 230,000 and 285,000 enrollments, respectively, compared to 2014.
Article continues below advertisement
But the company witnessed a decline of 105,000 people from its PDP plans. UnitedHealth Group's (UNH) Medicare & Retirement segment currently serves one of every five Medicare beneficiaries in the United States. To know more about UnitedHealth Group's Medicare plans, please refer to UnitedHealth Group provides services to Medicare beneficiaries.
Future performance
UnitedHealth Group has witnessed the strongest growth in the company's history with MA enrollments of about 300,000. These members were enrolled  in the Medicare annual election period (or AEP) for policy year 2016. About one-third of the total new members belonged to group plans.
AEP is also called Medicare Open Enrollment Period. According to the Centers for Medicare & Medicaid Services, AEP is described as "Medicare health and drug plans can make changes each year—things like cost, coverage, and what providers and pharmacies are in their networks. October 15 to December 7 is when all people with Medicare can change their Medicare health plans and prescription drug coverage for the following year to better meet their needs." The company expects to add 325,000 to 400,000 members in its Medicare & Retirement segment in 2016.
UnitedHealth Group has been actively improving the quality of its offerings, closing 9 million gaps in care for its senior members. The company also expects that 63% of its total Medicare enrollments, or approximately 1.7 million people, will be in four-star-rated plans by 2017. By 2018, UnitedHealth Group projects that this percentage will be 80% or higher. The company is thus poised to give strong competition to other health insurers such as Cigna (CI), Aetna (AET), and Anthem (ANTM) in the Medicare market.
You can invest in the Health Care Select Sector SPDR ETF (XLV) and reduce excessive company-specific risks of investing directly in UnitedHealth Group. UnitedHealth Group accounts for about 4.3% of XLV's total holdings.