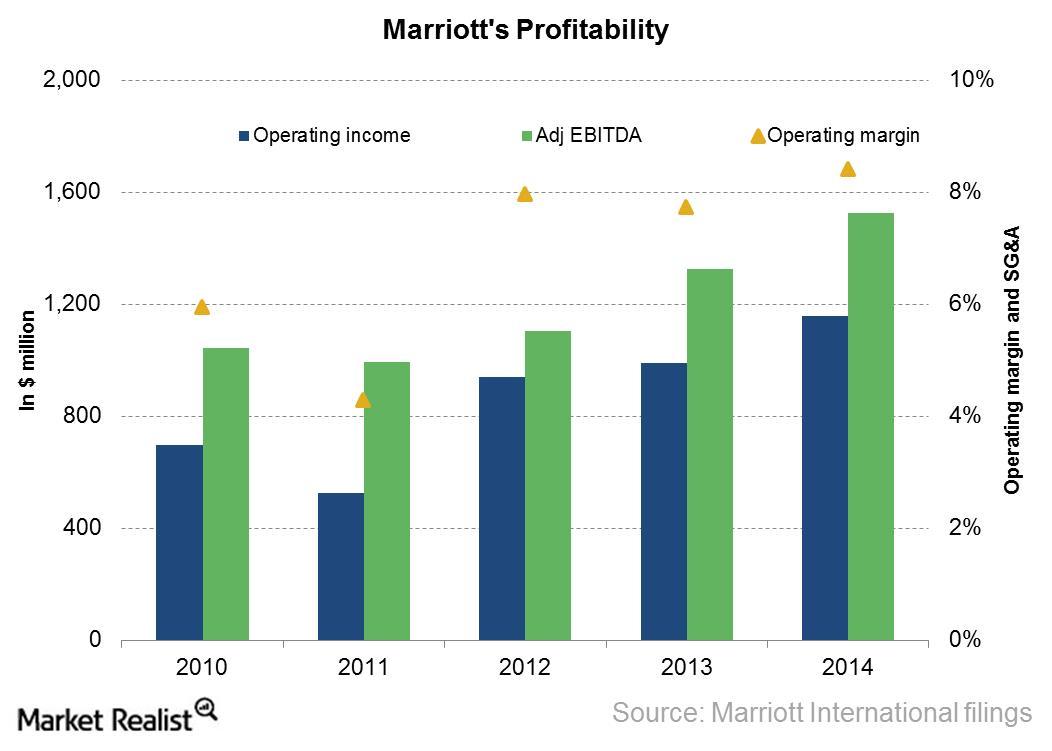 Marriott International's Expansion in the Franchise Model Is Bearing Fruit
Marriott International's operating margins
Marriott International's (MAR) operating margin increased from 5.9% in 2010 to 8.4% in 2014. This growth in margins was largely driven by steady growth in revenue due to a shift in focus from a lower margin business, such as timeshares. The company has also spent less on selling, general, and administration costs as a percentage of total revenues. This was due to Marriott's timeshare business spinoff, which needed high marketing expenses. The company's operating income grew from $695 million in 2010 to $1.2 billion in 2014.
Article continues below advertisement
Marriott's adjusted EBITDA
Marriott's adjusted EBITDA (earnings before interest, taxes, depreciation, and amortization) grew from approximately $1.1 billion in 2010 to around $1.5 billion in 2014. The company's EBITDA margin increased from 8.9% in 2010 to 11% in 2014. This growth was largely driven by strong growth in revenues, which in turn was driven by growth in ADRs (American Depository Receipts) and occupancy rates.
Marriott has one of the lowest EBITDA margins among its peers. Hilton Worldwide Holdings (HLT) had the highest EBITDA margin at 22.4%, followed by Wyndham Worldwide Corporation (WYN) at 22.2%, Starwood Hotels & Resorts Worldwide (HOT) at 19.5%, and Hyatt Hotels Corporation (H) at 16.5%. However, this is only nominal, as a large part of revenue declared by Marriott represented cost reimbursements, which do not contribute to the company's profitability. (For further details on cost reimbursement revenue, check out Part 9 of this series).
Marriott's EBIT margin
Among its peers, Marriott has one of the lowest EBIT (earnings before interest and taxes) margins at 8.7%. Wyndham recorded the highest EBIT margin at 18.1% followed by Hilton at 16.8%, Hyatt at 13.5%, and Starwood at 13.1%. Marriott's low EBIT margin was due to the cost reimbursements that we have discussed in the previous article.
Marriott's profitability and cost reimbursements
If we compare Marriott's profitability with industry peers without considering cost reimbursements, Marriott has one of the highest EBITDA and EBIT margins among peers. The company's net income grew from $458 million in 2010 to $753 million in 2014. Marriott's higher profitability versus peers can be explained by its relatively larger exposure to select-service hotels.
Select-service hotels normally give higher margins than full-service hotels. According to a study done by PKF Hospitality Research from 2005 to 2011, net operating income for select-service hotels was 36.5%, compared to 25.7% for full-service hotels. Select-service hotels have lower labor costs and less exposure to low-profit margin food and beverage revenues, leading to higher profitability margins.
Investors can gain exposure to the hotel sector by investing in the First Trust US IPO Index Fund (FPX), which has approximately 6% of its total holdings in the hotel sector.
Now let's look at Marriott International's asset utilization.