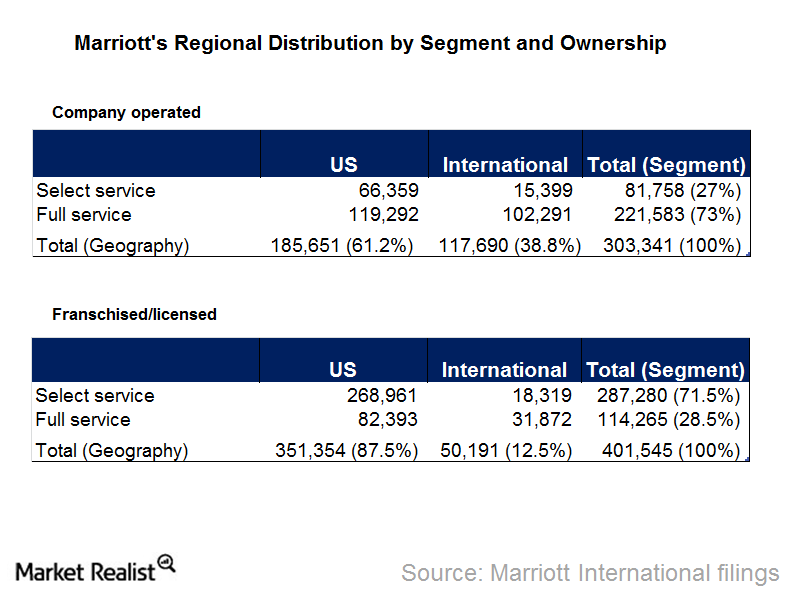 Marriott International's Business Model by Service Category: Key Investor Takeaways
Introducing Marriott International's business model
Marriott International (MAR) operates its hotels and other business segments under the following two models:
franchise or licensed models
company-operated models
In the franchise model, Marriott Hotels lets hotel owners use one of the brand names and charges a percentage of room sales earned by the hotel in return. Company-operated hotels are either owned or managed by Marriott. In the management model, Marriott receives a base fee and an incentive fee.
Article continues below advertisement
Select-service segment dominates franchised hotels
At the end of 2014, Marriott had around 2,882 franchised hotel properties, with 388,670 rooms under the franchise model. As we discussed in the previous part of this series, about 72% of these properties operate in the company's select-service segment, while only 28% of the franchised rooms are full-service hotels, and so it appears that the company is relying heavily on the franchise model to operate its select-service brands.
Full-service hotels are mostly operated under company-owned model
By the end of 2014, Marriott International had around 1,111 company-operated hotels consisting of approximately 293,940 rooms. But the company has even more full-service hotels under its company-operated model—about 73% of total company-operated hotels are full-service hotels. By operating this way, the company has more control over the operations of its full-service brands.
Notably, Marriott has a larger percentage of hotels under franchise or licensed model than competitors like Hilton Worldwide Holdings (HLT), Starwood Hotels & Resorts Worldwide (HOT), and Hyatt Hotels Corporation (H). Investors can gain exposure to the lodging sector by investing in the PowerShares DWA Momentum Portfolio (PDP), which has approximately 7.4% of its total holdings in the lodging sector.
But how do most customers view Marriott's hotels and services? Continue to the next part for our analysis.