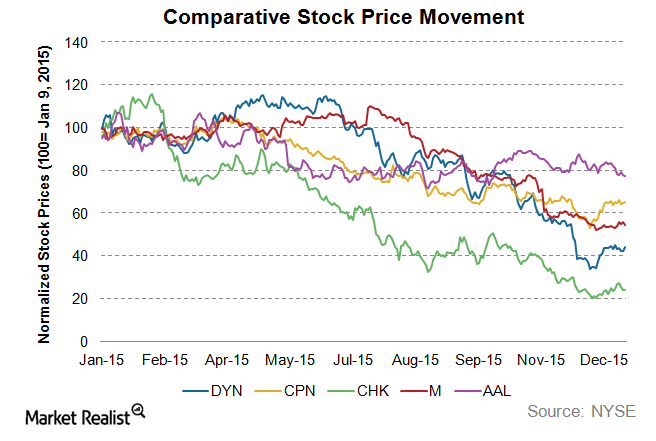 Marc Lasry Focuses on Energy in His 'Portfolio with Purpose'
By Vineet Kulkarni

Jan. 11 2016, Updated 4:11 p.m. ET
Portfolio with Purpose
In an interview with CNBC on January 8, 2016, Marc Lasry, founder and CEO of Avenue Capital Group, said that the energy sector may have bottomed out. He says we could see a huge energy turnaround. He sees several investment opportunities in the current US market amid some major concerns. Avenue Capital Group has $13 billion in assets under management.
Lasry came up with a virtual portfolio as a participant of Portfolio with Purpose—an annual stock selection competition. The a competition allows participants to represent their favorite charities. Marc is representing the Clinton Foundation.
Article continues below advertisement
Energy sector so far
Above are Lasry's picks for the competition. His portfolio inclines towards the energy sector's (XLE) beaten-down stocks, like Chesapeake Energy (CHK), Dynegy (DYN), and Calpine (CPN). He also includes Macy's (M) and American Airlines (AAL) among his picks for the contest. Note that no stocks are actually bought for this competition.
Shares of Chesapeake Energy corrected by a huge 75% in 2015 due to falling energy prices. Utilities like Dynegy and Calpine also fell, by ~65% and ~35%, respectively, last year. All these stocks are trading in the oversold zone, according to Lasry. He further said, "It is now just a question of when the energy turnaround takes place in the next 3-months, 6-months or a year."
However, he sees opportunities in the energy debt markets and not in equities. Lasry said, "In the next two to five years, bondholders will get paid off and if not, the debt will get converted into equity."
Utilities like Dynegy and Calpine both have a natural gas–dominated generation mix. So lower natural gas prices for a prolonged period may lead to significant savings for these companies.
Along with Lasry, other participants in the contest's master class segment include Greenlight Capital's David Einhorn, Pershing Square Capital's Bill Ackman, and Appaloosa Management's David Tepper.