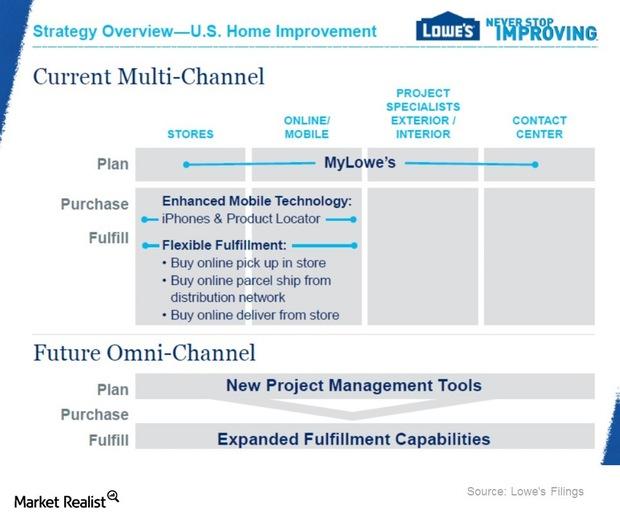 How Lowe's Is Leveraging Its Omni-Channel Opportunity
Massive merchandise assortment available online
As discussed in the last article, Lowe's (LOW) and rivals are displaying only a limited product assortment in stores. The online inventory far surpasses in-store inventory levels. Having more on tap online is also a way for Lowe's and Home Depot (HD) to ship to customers directly from manufacturers, bypassing several layers in the distribution process.
Lowe's Endless Aisle feature on its website supports Flexible Fulfillment. The latter enables the most efficient fulfillment option to deliver the order to the customer, be it from a Lowe's store (XRT) (RTH), via its distribution center, or directly through one of its suppliers. This also optimizes the investment of inventory in stores.
Article continues below advertisement
Article continues below advertisement
Leveraging store network
Online sales represented ~2.5% of Lowe's revenue in fiscal 2015, or ~$1.4 billion. Of all the online orders the retailer receives, about 60% are shipped to the store for the customer to pick up. A further 30% of fulfilled orders are shipped from the store while only 10% of orders are actually shipped from a dedicated fulfillment center.
Going omni-channel makes natural sense for both Lowe's and Home Depot. Both retailers have a massive store network in the US, which can double as strategic fulfillment centers. This saves considerable investment in infrastructure that can be diverted to other uses. In fact, Home Depot has put a halt to new store openings in the US, instead electing to fulfill increases in customer demand via a combination of sales at physical stores, online orders, and omni-channel delivery options.
On the other hand, a web-only presence can sometimes tell only part of the story for retailers. This is where omni-channel helps. Interaction with store associates and browsing are often better at a brick-and-mortar locations. Restoration Hardware is using most stores as showrooms only and provides detailed catalogues at stores. RH has larger merchandise assortment and customization available online. Both Home Depot and Lowe's have leveraged their store networks as well to that end.
Web features
Due to this factor, Lowe's is attempting more customer engagement by providing customer-friendly features on its website. The MyLowes feature on its website allows customers room visualization and customization tools that enable them to create home profiles, save room dimensions, and play around with ideas for interiors. Last year, Lowe's also launched a new and improved version of its portal for pros, www.lowesforpros.com, as discussed in part five of this series.
The next article discusses more customer-friendly enhancements that the retailer recently introduced.