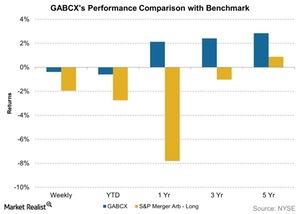 What Investors Should Know about the Alternative Mutual Fund GABCX
Hedge fund alternative
Alternative mutual funds are currently one of the fastest-growing asset classes. They seek to mimic popular hedge fund strategies such as global macro, event-driven, distressed debt, and merger arbitrage in order to achieve industry-specific goals. The minimum investment criteria of major hedge funds make it difficult for retail investors to have exposure in them. Meanwhile, alternative mutual funds allow retail investors access to such hedge fund strategies.
Article continues below advertisement
The Gabelli ABC Fund – Class AAA (GABCX) is an alternative mutual fund that seeks to achieve total returns that are attractive to investors in various market conditions without excessive risk of capital loss. To achieve its investment objective, the fund uses the "event-driven" hedge fund strategy by investing in event-driven situations such as announced mergers, acquisitions, and reorganizations, among others. The graph below compares the historical performance of the GABCX with its benchmark, the S&P Long Only Merger Arbitrage Index (VFINX) as of January 12, 2016.
Performance comparison
The above graph shows that the GABCX has successfully managed to outperform its benchmark index by giving higher absolute returns during bullish markets and providing ample downward protection during bearish markets. The annualized one-year return of the GABCX is 2.1% compared to the S&P Long Only Merger Arbitrage Index return of negative 7.8%.
Key metrics for GABCX
The top holdings of the fund include stocks such as Sigma-Aldrich (SIAL), Kythera Biopharmaceuticals (KYTH), HCC Insurance (HCC), Lennar (LEN), and Cleco (CNL), among others. The fund is currently being managed by Mario Gabelli. The fund has a net expense ratio of 0.6%, which is 60% higher than the average expense ratio of funds with similar holdings. The fund has an average dividend yield of 1.2% and declares dividends on a quarterly basis.
The next article of the series will discuss analyst estimates and trend analysis of GABCX.