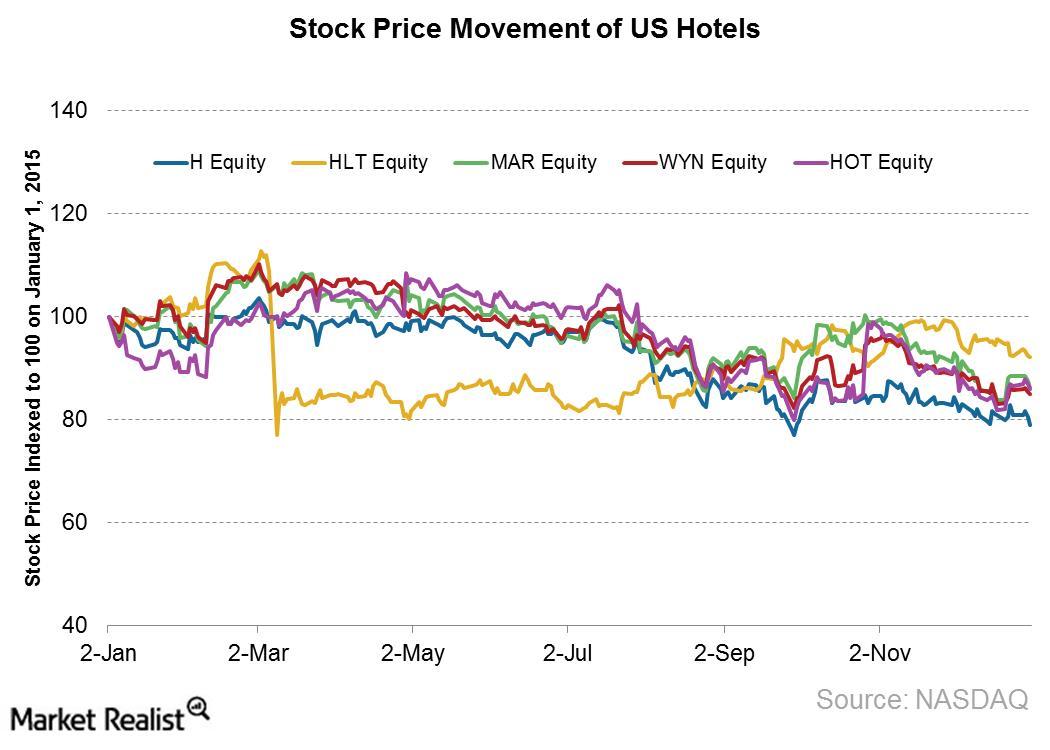 An Investor's Introduction to the US Hotel Industry
Overview
The Baird/STR Hotel Stock Index, which measures the performance of the top 20 hotel companies, fell by more than 20% in 2015. The US hotel sector consists of more than 40,000 companies, including independent hotels and large companies such as Hyatt (H), Marriott (MAR), Wyndham (WYN), Hilton (HLT), and Starwood (HOT).
The sector comprises more than 53,000 properties and records an annual turnover of $175 billion. The hotel sector in the US is highly fragmented, with the largest 50 hotel companies recording just over 45% of the market share.
Article continues below advertisement
Introduction to indicators
The hotel industry is largely driven by growth in the general economy, which instills confidence in businesses and households to spend. Leisure travelers make up about 60% of the total hotel room sales, and business travelers account for 40% of total sales.
Leisure travel is largely driven by the availability of disposable income and consumer confidence. Growth in business travel depends on general economic activity. During times of economic trouble, companies work to cut business travel costs by reducing the number of trips per year or by reducing the expenditures per trip.
Series outlook
Hotel investors can use the indicators discussed in this series to gauge the general trends and determine where the hotel industry is headed. We will be looking at hotel indicators such as ADR (average daily rate) and occupancy levels, which are driven by the supply and demand of rooms. We will also discuss factors such as consumer confidence, the strengthening dollar, and airline ticket prices, all of which affect supply and demand in the hotel sector.
Investors can gain exposure to hotel stocks by investing in the Consumer Discretionary SPDR ETF (XLY), which holds 0.63% in Marriott International (MAR), 0.52% in Starwood Hotels (HOT), and 0.38% in Wyndham Worldwide (WYN). Other major hotel stocks include Hilton Worldwide (HLT) and Hyatt Hotels (H).