An Inside Out Look at Burlington's Business Model
Burlington follows an EDLP model, which helps customers get up to 60–70% savings off prices of similar merchandise in department and specialty stores.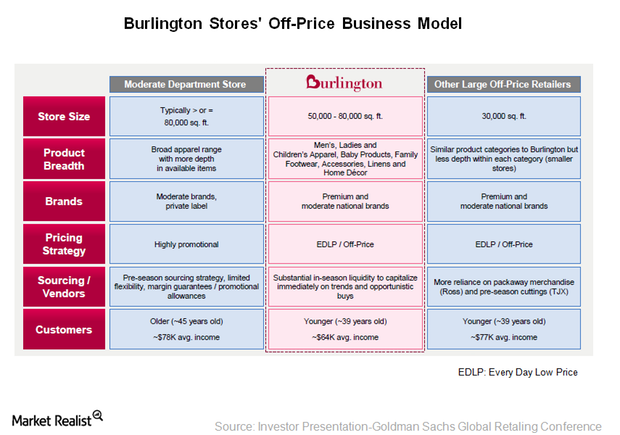 Burlington's off-price model
Burlington Stores (BURL) is one of the key players in the US off-price retail space. According to the company, it follows an EDLP (every day low price) model, which helps its customers get up to 60%–70% savings off regular prices of similar merchandise sold in department stores and specialty stores.
Article continues below advertisement
Article continues below advertisement
Store sizes at Burlington
The company's store size generally ranges between 50,000–80,000 square feet, while other off-price retailers like TJX Companies (TJX) and Ross Stores (ROST) have stores with a size of around 30,000 square feet—a much smaller footprint.
Moderate department stores like Kohl's (KSS) operate stores with size that is greater than or equal to 80,000 square feet. Burlington Stores is now exploring smaller store sizes but currently sits at the middle or higher end of store sizing. (We'll discuss the potential downshift in Part 7 of this series.)
The iShares Russell 3000 ETF (IWV) has 0.02% exposure to Burlington Stores.
Differentiation in sourcing
Burlington Stores sources its merchandise from about 5,000 vendors, with a focus on major nationally recognized brands. According to the company, it purchases the majority of its inventory opportunistically. The company maintains substantial in-season liquidity to take advantage of opportunistic buying situations and leverage the ongoing trends.
By comparison, Ross Stores relies more on pack-away inventory, which represents purchases arising from manufacturer overruns and canceled orders both during and at the end of a season. Much of the inventory purchased by TJX Companies is for the current or immediately upcoming selling season. Thus, Burlington often has more flexibility mid-season if styles or demands change.
Customer profile and product assortment
Burlington Stores' target consumer belongs to a younger demographic, with an average age of 39 years and an average annual income of about $64,000. The company's off-price rivals cater to customers whose average income is ~$77,000 per annum.
The company believes that its product assortment has more depth compared to its off-price rivals due to the larger store size and opportunistic, timely buys. Also, Burlington has more penetration in certain other categories like baby products and coats.
Continue to the next part for a Porter's Five Forces analysis of Burlington Stores.