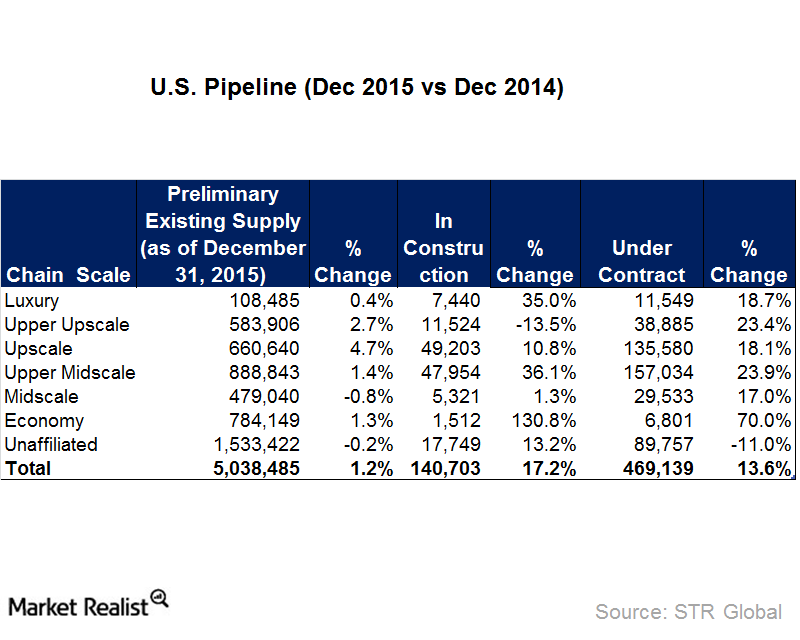 A Hotel Investor's Guide to the Hotel Pipeline
By Sam Matthews

Jan. 22 2016, Updated 12:07 p.m. ET
Introduction
The hotel pipeline tells potential investors how development activity in the hotel sector looks. It also points to the future supply trends. The segmentation shown in the table below is based on the ADR (average daily rate) charged by each hotel. It is essential for investors to understand this segment, which is expected to grow more quickly than other segments.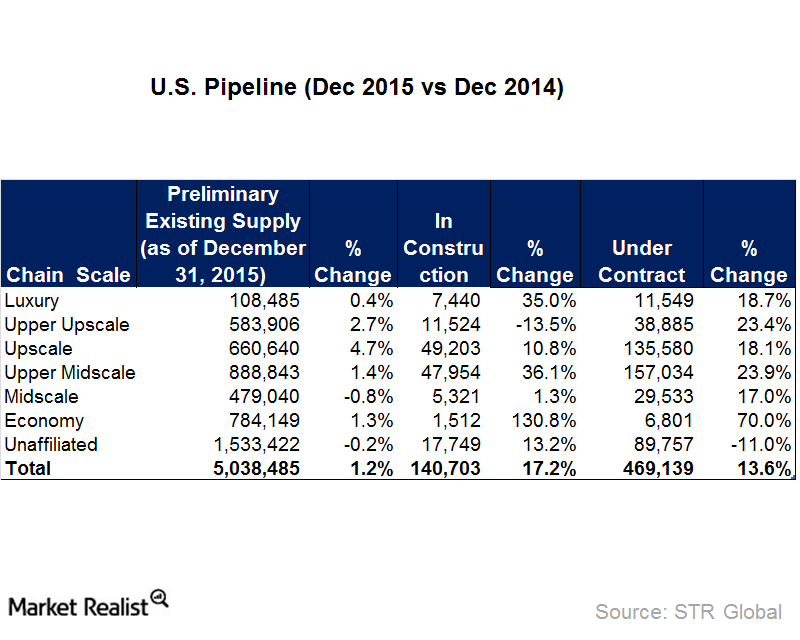 This is because most of the hotel companies operate largely in one or two segments. For example, Hyatt (H) predominantly operates in the luxury and upper-upscale segments. Marriott (MAR) operates in the luxury and upper-midscale segments. Similarly, Wyndham (WYN) mostly operates in the midscale and upper-midscale segments, whereas Starwood (HOT) mostly operates in the upper-upscale and upscale segments.
Investors can gain exposure to the hotel sector by investing in the First Trust US IPO Index ETF (FPX), which invests about 6% in the hotel sector.
Article continues below advertisement
The hotel pipeline in December 2015
According to STR Global's Construction Pipeline Report for December 2015, rooms under contract in the US rose by 17.2%, as compared to December 2014, to reach 469,139 rooms. They form about 9% of the current supply in the market. Rooms under contract include all projects that are in the planning and construction stages, but the metric doesn't include projects that are not confirmed.
The upper-midscale and upscale segments comprised more than two-thirds of the total rooms under contract. This is because in a growing economy with strong demand, the hotel sector expects the midscale and economy customers to upgrade to the upper-midscale segments. The upper-midscale and upscale segments typically offer free Wi-Fi, flatscreen TVs, and mobile booking facilities—amenities that customers now consider as basic in a hotel room.
Luxury hotels often take more time and capital to develop than full-service hotels, and developers still appear to be apprehensive about adding new supply. Investors can expect the supply to catch up with the demand mostly in the upper-midscale and upscale segments. Lower supply growth in the luxury segment will help drive its ADR and occupancy rates.