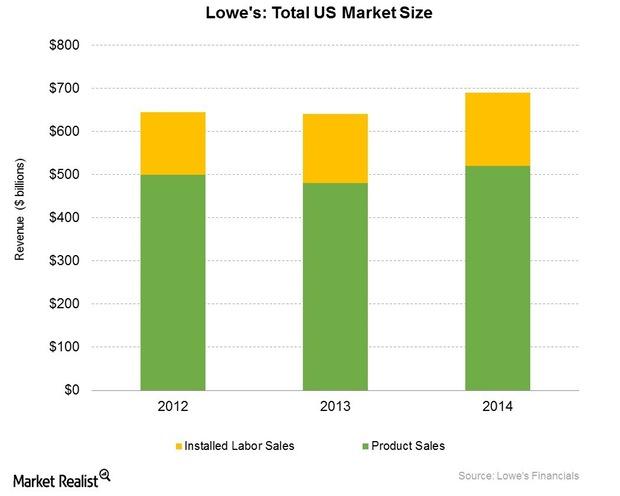 Why Home Depot and Lowe's Are Leaders in Home Improvement Retail
Home improvement retail: industry size and presence
Lowe's (LOW) operates in the home improvement retail industry. The industry comprises of building materials and supplies products including garden products and furniture, home furnishings, paints, lumber, power tools, home appliances, flooring materials, coatings, and electrical components, among others. The company competes with a number of retail and wholesale players including other home improvement retailers, mass merchandisers, specialty furnishing stores, hardware stores, and e-commerce retailers. Several operators, including Lowe's, also offer installation services, which is a way for the big-box retailer to attract do-it-for-me (or DIFM) customers, and earn revenue both on the product and the services side.
Article continues below advertisement
Article continues below advertisement
Market size and competition
Lowe's estimated the size of its total market for home improvement in the US at $690 billion in 2014. Of this, $520 billion represented product sales while the rest was installed labor sales. The market grew 7.8% over 2013 with the growth skewed slightly in favor of product sales.
Lowe's and Home Depot (HD) are the largest players in the industry, and ranked number two and number one, respectively, in terms of market share. Lowe's global turnover in fiscal 2015[1. Fiscal year ending January 2015] came in at $56.2 billion on a retail footprint of 1,840 stores. In contrast, Home Depot clocked sales of $74.7 billion in the US on a store base of 1,698.
One-stop advantage
Despite dominating the home improvement landscape, the two companies face competition from several big-box retailers like Walmart (WMT), Costco (COST), Target (TGT), and Best Buy (BBY), smaller regional players like Menard's, hardware stores like Ace Hardware, and building materials suppliers and wholesalers.
However, none of their competitors offer a one-stop shop experience in home improvement, as Lowe's and Home Depot do. Most rivals tend to be niche players like Restoration Hardware (RH) and Wayfair (W), which retail primarily furniture and furnishings. While a vast array of merchandise is available at Walmart (WMT), product selection tends to vary among different store types and locations. Walmart also doesn't offer the value-added services provided by Lowe's and HD.
Lowe's and Home Depot together constitute 8.2% of the holdings in the iShares U.S. Home Construction ETF (ITB). As S&P 100 constituents, they're also part of the iShares S&P 100 ETF (OEF), together making up 2% of the ETF's portfolio.