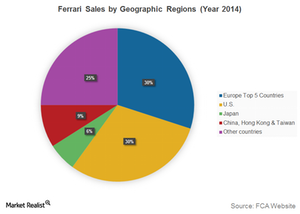 What Are Ferrari's Key Geographical Markets?
Division of major global markets
In the previous part of this series, we discussed Ferrari's manufacturing process. Now we'll have a look at some of the important geographical markets for Ferrari. Stable demand and strong brand image have kept Ferrari (RACE) moving forward, regardless of adverse global economic conditions. Some of the major regions for Ferrari are as follows:
The United States
The top five European countries are Italy, the UK, Germany, France, and Switzerland
Japan
Greater China (Mainland China, Hong Kong, and Taiwan)
Article continues below advertisement
Sales in the US
Ferrari entered the US market in 1954 when legendary racing car driver Luigi Chinetti opened the first Ferrari dealership in the country. Despite being a globally well-known brand, North America remains Ferrari's largest market. According to 2014 sales figures, the company reported firm growth in the region with the US accounting for 30% of its total sales, which are equal to Italy, the UK, Germany, France, and Switzerland combined.
It's noteworthy that Ferrari's sales figures are far behind other top automobile manufacturers like BMW (BAMXY), Daimler (DDAIF), Ford Motor Company (F), and Toyota (TM) in North America due to its exclusivity and low volume model. However, with stable demand from the region, North America remains one of Ferrari's most loyal markets.
Note that the Consumer Discretionary Select Sector SPDR ETF (XLY) holds 2.4% of its portfolio in Ford Motor Company.
Article continues below advertisement
Sales in European countries
Among all European markets, Italy, the UK, Germany, France, and Switzerland are the top five most important markets for Ferrari. As noted earlier, these five regions combined account for around 30% of Ferrari sales globally. The UK has been one of the oldest and most loyal markets for the luxury car manufacturer.
Following the gradual shift in demand dynamics, Ferrari has been allocating a lower portion of shipments to the European market in recent years, based on its strategy to manage waiting lists.
Lately, Ferrari has expressed its concerns about the future growth in European markets, as regulatory policies there are changing at a fast pace to deal with environmental, fuel economy, vehicle safety, and noise emission concerns. This is the area where Ferrari may need to revisit its product development plans to maintain pace amid changing governmental policies.
Sales in Japan and Greater China
In 2014, Ferrari reported an 18.4% increase in shipments to Japan as compared to the previous year. As shown in the chart, Japan accounted for 6% of total units sold by Ferrari in 2014. Greater China remains the strategically more important market for Ferrari due to rapid economic growth seen in the region in recent years. However, the company may face challenges, specifically in Mainland China, due to stringent emissions standards to deal with severe air pollution issues in major cities like Beijing.