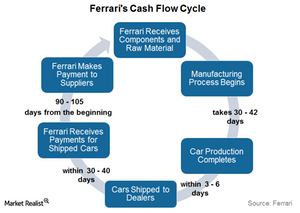 How Ferrari's Cash Flow Cycle Impacts Profitability
Ferrari's profitability margins
For most of the companies in the automobile industry, profit margins usually remain lower than companies in other consumer durable products segments like the hotel and aviation industries. This is partially due to the highly competitive nature of the automobile industry.
For the last three years, Ferrari (RACE) has been reporting gradual progress in EBITDA (earnings before interest, tax, depreciation, and amortization). EBITDA for 2014 stood at 678.5 million euros with an EBITDA margin of 24.6%.
The company's net profit margin for 2014 stood at 9.6%, which is better than the automobile industry average.
Article continues below advertisement
Ferrari maintains remarkably high gross margins compared to its peers. Ferrari's gross margins stood at 46.8% for the past year while the industry average is near 20.5%. Volkswagen's gross profit margin for this period stood at 17.3%. As noted earlier in this series, Volkswagen (VLKAY) owns Ferrari's major rival brands like Porsche (POAHF), Bentley, and Lamborghini. Gross margins for Ford Motor Company (F) and Toyota (TM) stood at 14.3% and 20.4%, respectively, for the same period.
Currently, Ford and General Motors (GM) together make up ~4.2% of the Consumer Discretionary Select Sector SPDR Fund (XLY).
Cash flow cycle
According to the company, Ferrari generally receives payments for sold cars between 30 to 40 days after the shipment. On the other hand, Ferrari's car components and raw material suppliers are generally paid between 90 to 105 days after Ferrari receives shipments. The time it takes to manufacture one Ferrari car is around 30 to 42 days. After the completions of production, vehicles are shipped to Ferrari dealers within three to six days. This way Ferrari gets its payments from cars sold before it pays its suppliers. And Ferrari's current business model of maintaining exclusivity with low production also helps the company maintain low inventory costs.