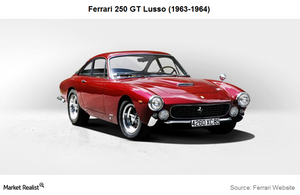 Is Ferrari the World's Most Recognizable Brand?
Filmmakers' love for Ferrari
Ferrari's image and its consideration as a status symbol has intrigued many filmmakers. Ferraris have been featured in all types of films from Scent of a Woman to the Bond series.
Article continues below advertisement
Article continues below advertisement
A niche brand
Ferrari (RACE) sets a good example in the field of marketing. In an annual study conducted in 2013 by well-known brand valuation consultancy Brand Finance, Ferrari stood as the world's most popular and instantly recognizable global brand. Note that in this report, Ferrari stood out among all other major brands including Google (GOOG), Coca-Cola (KO), Disney (DIS), Rolex, and Apple (AAPL). Apple makes up 14.3% of the Technology Select Sector SPDR Fund (XLK) ETF.
The company has a strong brand image in emerging economies too. Notably, Ferrari doesn't use traditional advertising mediums. Being the owner of the most successful F1 racing team gives Ferrari immense marketing power. To exploit this popularity, many established brands like Puma, Electronic Arts, Microsoft, Hublot, Movado, and many others pay royalties to Ferrari to use its brand name on their various products like sportswear accessories, luxury watches, toys, and video games. As noted earlier, Ferrari promotes its vehicles through participation in Formula One and other racing events with its racing team, Scuderia Ferrari.
Museo Ferrari and other theme parks
Museo Ferrari is a museum dedicated to Ferrari in Maranello, Italy, opened in 1990. Some of the rare iconic Ferrari racing cars and road cars are on display at this museum. Other than this museum, the company also owns a theme park in Yas Island on the Northeast side of Abu Dhabi's mainland. This theme park opened in 2010 and alone accounts for 12% of total royalties generated by Ferrari licensing activities.
In 2014, the company also signed a deal with PortAventura Entertainment to open Ferrari's first European theme park at the PortAventura resort near Barcelona in Spain. According to the plans, this theme park is expected to open in 2016.