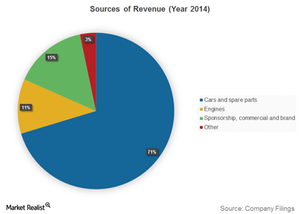 How Ferrari Got Its Start
The beginning of Ferrari
Ferrari (RACE) is one of the most prestigious brands in the automobile industry. The Italian racing and sports car manufacturer entered the business of manufacturing supercars with its first model, the 125 S, in 1947. Fiat Group acquired a 50% stake in Ferrari in 1969 and gradually increased its stake to 90% by 1988. After the merger with Chrysler, the Fiat Group became known as Fiat Chrysler Automobiles (FCAU). Notably, Ferrari has never aimed at giant figures in terms of volume so that it could maintain exclusivity with a niche clientele.
Article continues below advertisement
Sources of revenue
Being a globally well-known brand, Ferrari has multiple sources of revenue. These can broadly be classified as follows:
sales of cars and spare parts
sales of engines to Formula 1 racing teams and other manufacturers
revenues from Formula 1 racing team sponsorship, commercial, and brand
interest income from financial services activities
changing target consumer dynamics
Ferrari targets the wealthiest segment of the population. Ferrari has been working on strategies to get a stronghold in emerging markets like China, Brazil, and India. However, Ferrari's most loyal geographic markets like North America and the UK are still the company's primary focus.
Lamborghini, Porsche (POAHF), Volkswagen's (VLKAY) Bentley, and Daimler's (DDAIF) Mercedes-Benz are some of Ferrari's key competitors.
Ferrari Financial Services
Ferrari Financial Services is a company owned by Ferrari. Ferrari owns 90%, and Germany-based asset management firm Aldasa Vermögensverwaltungs GmbH owns 10%. This financial services division was set up to facilitate the financial needs of customers. The company has its headquarters in Maranello, Italy, and provides direct or indirect finance and leasing services to Ferrari retail clients from various regions including Germany, the UK, France, Belgium, Switzerland, Italy, and the United States.
The company also offers a dealer financing facility, but currently, it's only available in the US. Until 2014, dealer financing was also available in other major markets like the UK, Germany, Belgium, and Switzerland. In 2014, 99% of these financial services portfolios were funded by the third party and intercompany debt. In May 2015, the company partnered with JACCS to facilitate customer and dealer finances.
The First Trust US IPO Index Fund ETF (FPX) invests 1.4% of its total portfolio in Fiat Chrysler Automobiles (FCAU).