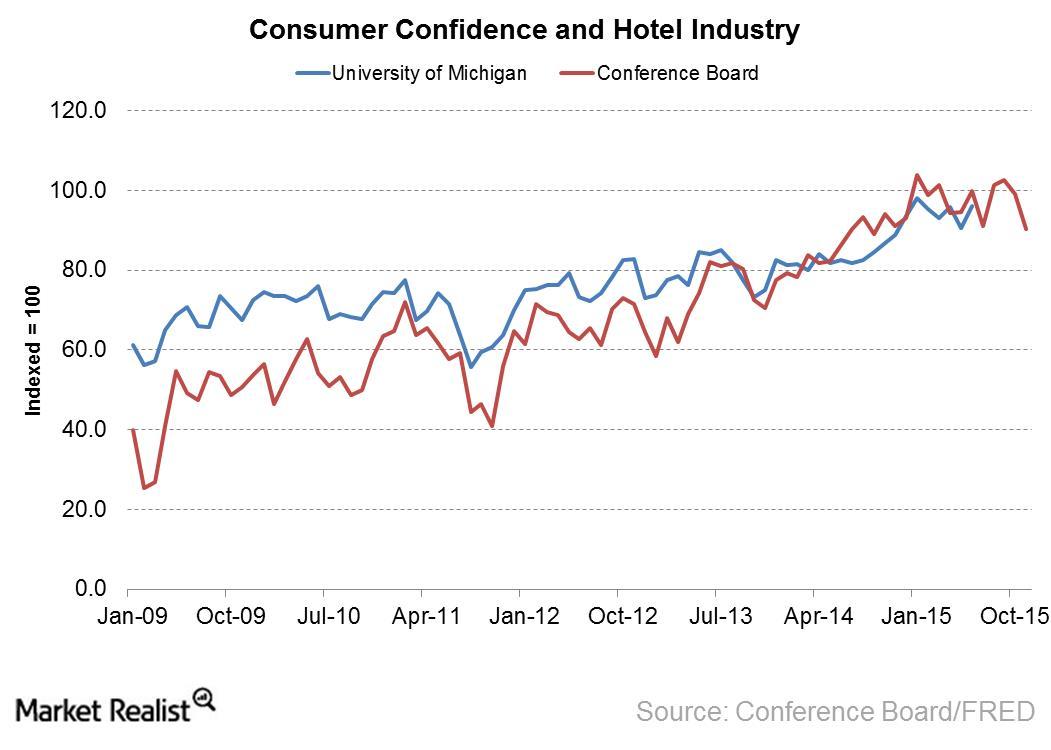 How Could Falling Consumer Confidence Affect the Hotel Industry?
Consumer confidence
Two separate entities—the Conference Board and the University of Michigan—collect and report consumer confidence data each month. Both measures are indexed arbitrarily to 100. A higher level means consumers are positive about the economic condition. An increase in consumer confidence generally leads to an increase in spending and vice versa.
Article continues below advertisement
Conference Board Consumer Confidence Index
The Conference Board Consumer Confidence Index as of November 2015 was 90.4 compared to 102.6 in September 2015. Both indexes have been rising since 2009 from their lows of 25.3 and 55.7, respectively.
The recent drop in consumer sentiment shows consumers being less optimistic about the state of the economy. Declining consumer confidence is negative for the hotel industry, as it directly affects leisure travel. Leisure travelers comprise almost 60% of the total hotel sales in the US. This affects both occupancy rate and ADRs (average daily rate). This could drive down the RevPAR (revenue per available room) growth rates, which in turn will reduce the growth rate in revenue.
Investors can gain exposure to the lodging sector by investing in the iShares US Consumer Services ETF (IYC). IYC invests 11.5% in the lodging sector, which includes 0.5% in Marriott (MAR), 0.4% in Starwood (HOT), 0.39% in Hilton (HLT), and 0.06% in Choice Hotels International (CHH).