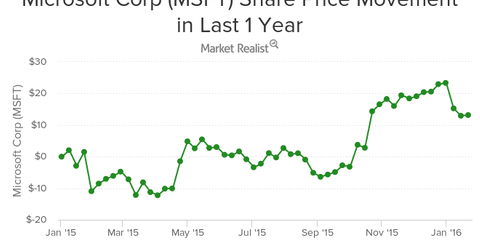 What Caused Microsoft Stock to Rise by ~20% in 2015?
By Anne Shields

Updated
Microsoft stock rose 20% in 2015
In our recent Microsoft series, we discussed Microsoft's (MSFT) varied approaches, acquisitions, and launches to establish itself in the rapidly growing areas of mobile, cloud, and big data. It's important to note that unlike IBM (IBM) and Oracle (ORCL), Microsoft stock cheered its investors. The stock rose by ~19% in 2015, as the following share price chart shows. In contrast, IBM has been grappling with revenue growth for the last few years. Its stock fell 14% in 2015. Oracle's stockholders witnessed a similar fate. The company's stock fell 18.8% in 2015.
Article continues below advertisement
"Mobile first cloud first" strategy benefited shareholders
Microsoft revised its corporate strategy "mobile first cloud first" in accordance with the change in the IT landscape. It's going through the SMAC (social, mobile, analytics, and cloud) revolution. Although layoffs and the phone business weighed heavily on Microsoft's results, it was the company's success in the cloud—where it's only behind Amazon (AMZN)—that pushed its stock to rise more than 25% in the past year. You can see this in the above chart. Microsoft's strategic acquisitions and partnerships also provided a boost.
In January 2016, Microsoft announced the addition of MinecraftEdu and Event Zero to its acquisition portfolio. Event Zero is Microsoft's first buyout in 2016. It's an Australia (EWA)-based management software startup that would facilitate the expansion of Microsoft's Skype for Business management tools.
MinecraftEdu is a modified version of Minecraft—a popular online game. It's customized for use in schools. The financial details of the acquisition weren't disclosed. In September 2014, Microsoft announced the acquisition of Mojang—the Swedish company that develops Minecraft—for $2.5 billion.