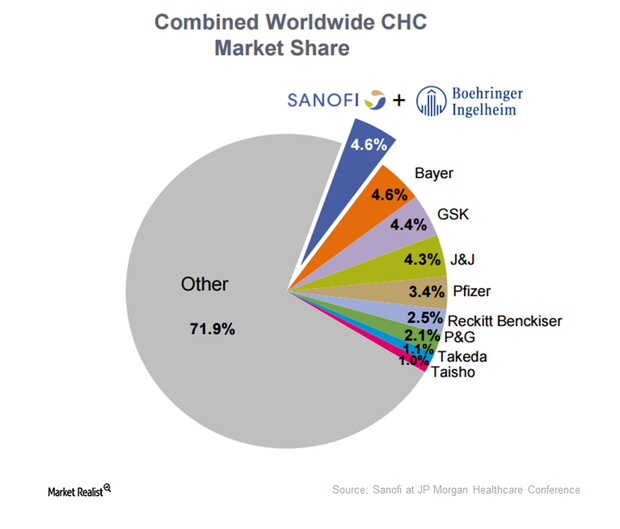 Can Consumer Healthcare Drive Sanofi's Revenue?
By Jillian Dabney

Feb. 1 2016, Updated 1:07 p.m. ET
Growth prospects in the consumer healthcare market
The CHC (consumer healthcare) market forms a part of Sanofi's (SNY) pharmaceutical segment. The company plans to reshape the portfolio in 2016. Following the strategy, CHC would be a part of general medicines and the business unit of emerging markets. The contribution from this segment has increased gradually from 11% in 2011 to 15% in 2014.
The graph above depicts Sanofi's and Boehringer Ingelheim's market shares in the CHC market. Sanofi plans to sustain its leadership position in diabetes, vaccines, rare diseases, and emerging markets. Similarly, it aims to become the global leader in CHC.
According to Nicholas Hall & Company, Sanofi and Boehringer Ingelheim together hold 4.6% of the market share in the worldwide CHC market. GlaxoSmithKline (GSK) holds 4.4% of the market share, while Johnson & Johnson (JNJ) and Pfizer (PFE) hold 4.3% and 3.4%, respectively.
Article continues below advertisement
Regional performance
Revenue from CHC was 814 million euros for the third quarter of 2015. It reflected 3.2% year-over-year growth. The growth was driven by Allegra, Lactacyd, and Dorflex.
Sales for CHC were 209 million euros in the United States, reflecting a 10.8% growth. Sales dipped by 7.6% in Western Europe following decreased sales of Doliprane, an over-the-counter drug. A price cut for the drug in France was the major reason for the dip in the sales.
Industry-specific factors such as pricing pressure and volume uptake are major contributors to the company's performance. The stock price is susceptible to such events. To avoid such risk, an ETF is a good option. To get exposure to Sanofi and avoid excessive company-specific risks, investors could opt for the S&P 500 SPDR ETF (SPY). Sanofi accounts for 0.38% of SPY's total holdings.