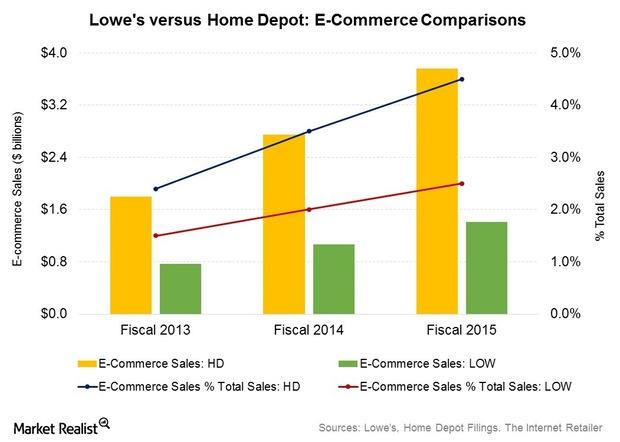 How Does Lowe's E-Commerce Performance Compare to Rivals?
Lowe's online sales are making an increasingly larger revenue contribution
Lowe's (LOW) derived about 2.5% of its sales from the e-commerce channel, or an estimated $1.4 billion, in fiscal 2015, up from an estimated $0.8 billion, or 1.5% of sales, in fiscal 2013. The increasing incidence of online sales (XLY) in the revenue mix will likely boost the retailer's same-store sales numbers in the future although they haven't had a meaningful impact yet due to the larger scale of Lowe's brick-and-mortar operations.
Article continues below advertisement
How are rivals doing in e-commerce?
In contrast, rival Home Depot (HD) derived 4.5% of sales from the online channel in fiscal 2015, or $3.8 billion. Newer premium player Restoration Hardware (RH) derived 50% of its sales from this channel during its last fiscal year, or about ~$0.9 billion.
Pier 1 Imports (PIR) is another retailer in the industry that demonstrates the higher influence of the online channel on financial results in comparison to in-store sales. Web sales represented 17% of the retailer's revenue in the first three quarters of fiscal 2016 compared to 10% in the comparable period of its last financial year. As part of its revival plan, the company's planning to shutter more stores, and hopes to do more business online.
Omni-channel dominance
The increasing cadence of online sales in the sales mix for Lowe's and its competitors comes due to the greater emphasis these retailers are placing on omnichannel initiatives. For instance, Lowe's stocks about 36,000 items at its average Lowe's store. However, Lowe's has several hundred thousand items on tap via its e-commerce sites and its special sales order system.
It's the same for Home Depot and Restoration Hardware. Less than 10% of RH's inventory is displayed in stores. HD offers about 35,000 products at the average store, but the online assortment available is about a million.
The next article continues the discussion of Lowe's omni-channel initiatives.