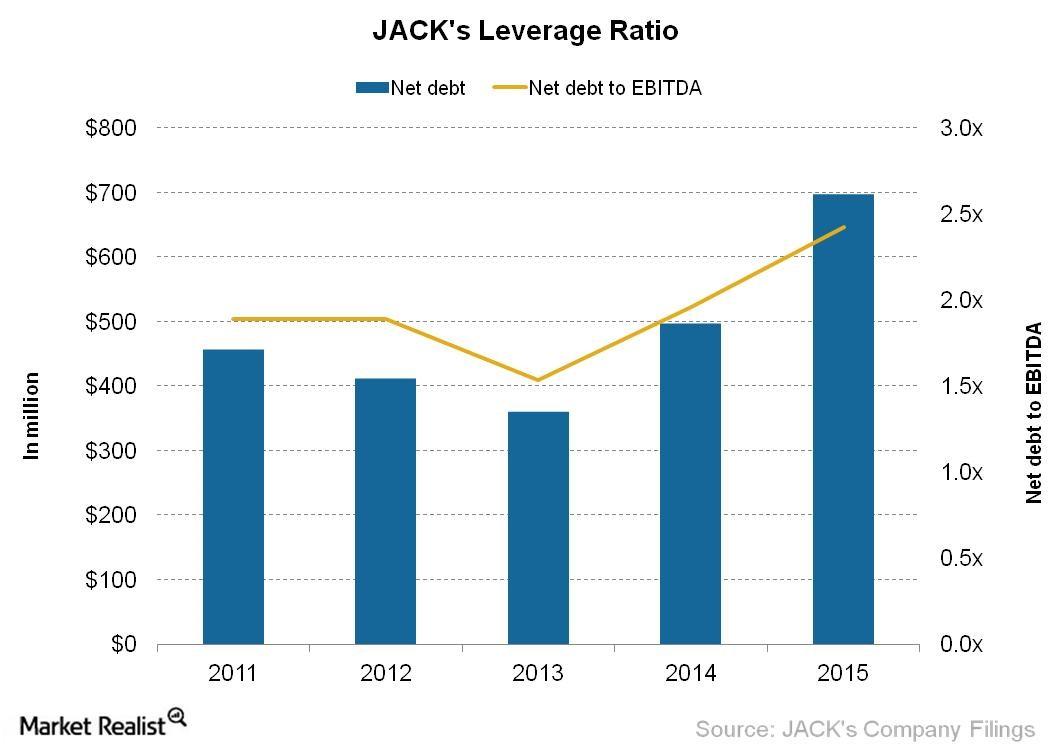 Analyzing Jack in the Box's Leverage Ratio
By Rajiv Nanjapla

Jan. 26 2016, Updated 8:05 a.m. ET
Importance of debt
As an investor, it's important for you to know about a company's debt situation, as it gives information about whether the company is underleveraged or overleveraged. In this part of the series, we'll look at net debt, which is calculated by deducting cash and cash equivalents from the sum of short-term and long-term debts.
Article continues below advertisement
Jack in the Box's net debt over five years
In 2011, the net debt of Jack in the Box (JACK) was $457.1 million, which decreased to $360.6 million in 2013. However, it then increased significantly over the next two years to reach $697.5 million as of September 2015, an increase of 93.4%. The company used the debt to repay its previous borrowings and for share repurchases.
Jack in the Box's leverage
The net debt-to-EBITDA (earnings before interest, tax, depreciation, and amortization) ratio provides information on how many years it would take for a company to pay back its debt if net debt and EBITDA are held constant. The ratio also determines how leveraged a company is. Due to a significant increase in debt levels, Jack in the Box's net debt-to-EBITDA ratio increased from 1.9x in 2011 to 2.4x in 2015.
Peer comparison: Net debt-to-EBITDA
McDonald's (MCD) net debt-to-EBITDA ratio for the twelve months between October 2014 to September 2015 was 1.5x. During the same period, The Wendy's Company's (WEN) net debt-to-EBITDA ratio was 3.8x, Chipotle Mexican Grill (CMG) had a ratio of -0.96x, and Panera Bread's (PNRA) was -0.05x. Compared with the peer group's ratios, Jack in the Box's ratio is on the higher side.
You can get exposure to Jack in the Box (JACK) stock by investing in the Direxion All Cap Insider Sentiment ETF (KNOW), which has invested 1.4% of its portfolio in Jack in the Box.